6 Questions to: Lela Ahmadzai
The photographer Lela Ahmadzai has been following the lives of different women in Afghanistan since 2008 and has captured many moments and stories in portraits. In a brief interview, she talked about the link between women's lives and politics, and about what interests her in her long-term project.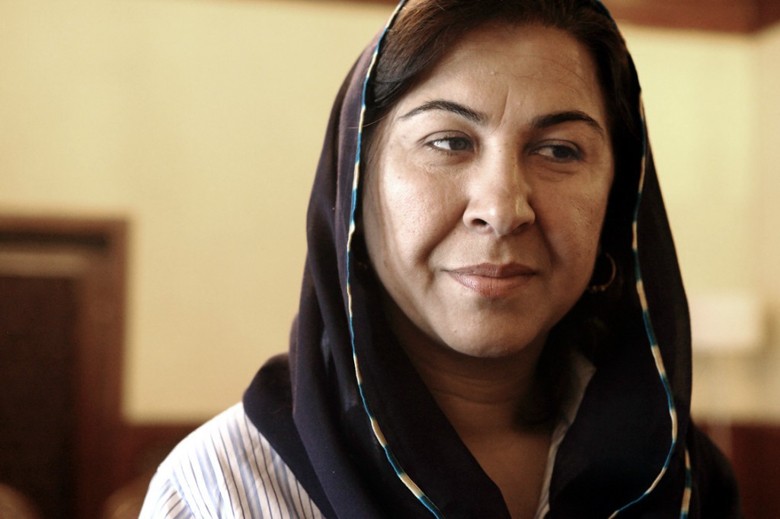 WIR MACHEN DAS: As part of the Strangers at Home project, you portrayed 10 women who are campaigning for equal rights in Afghanistan. How did you approach the women and how did your work with them take shape?
Lela Ahmadzai: I've been travelling to Afghanistan since as far back as 2003 and I started Strangers at Home in 2008. I was interested in the women's development in relation to the development of Afghanistan. Since the West marched in, I've noticed that the women have been taking big steps forward and been able to develop. 2008 was a highpoint when I noticed that they were really doing well and could stand on their own two feet.  However, there were always discussions about what would happen when the western troops withdrew again, and I decided that I ought to capture and portray this moment.
I found the women during a project that was funded by VG-Kunst [copyright association for fine arts]. Events took me to Afghanistan and I wanted to find women who were as different as possible, and this included the Afghanistan women's national football team. The exhibition was called Die ersten auf dem Platz in German [The First on the Pitch] and A Woman's Goal in English. I'm still in contact with some of the ten women I portrayed then and I've even followed one of them – she's an MP – continuously up to today. She's also part of my current project. I have known her since 2008 and have met her occasionally but regularly ever since. I can document her strength and the development of the women but also the development in politics.
What did you particularly want to show in the portraits? And what challenges did you face in your work?
It was sometimes difficult to win the women's trust even though I'm a woman myself and handled everything confidentially. I did a video interview and visited the women several times. The challenge is to create trust from the moment first contact is made so that they allow me to stay with them. I started doing this mostly without a camera, on a wholly personal basis. There are lots of women who are very strong and who feel like strangers in their own country because they're making such massive steps forward in their development. I met lots of women in this situation but I couldn't get all of them in front of the camera. Some are worried and are afraid that they're putting themselves in danger. This isn't unfounded. The situation has deteriorated unfortunately and many have had to leave the country.
In 2011 the pictures were first shown in Germany and then in Kabul. What were the reactions to the exhibition in Afghanistan?
It went smoothly. When you're so far into it and have followed the protagonists for so long then you're also ready yourself and can show things well. Exhibitions like these aren't a problem as they're shown within a closed society, in the German Embassy for example. Guests are always invited, it's very controlled, so that the photos don't trigger any major debate. It's more polarised if they're shown on the Internet, like the current project, as they reach a lot more people than a fixed exhibition, even in Afghanistan. So you have to think very carefully from the start about what happens if these photos are published. The reactions are very different: some are amazed by the women while some women and even men find it totally dangerous, but most of the people I meet are very open, very education-oriented, very democracy-oriented. But I have done other projects, such as the one on the Kandahar massacre, in very remote places in the countryside. When I meet people there, the concerns are different. I hear, for example, "City women can do that but not our sisters and not our mothers." So the projects aren't quite as welcome, but there are differences within Afghanistan of course.
What impressed or motivated your most about these projects?
It's essentially a long-term project and even my current works are tied to it. What motivates me most is the challenge of understanding the problems and making them visible and comprehensible to the outside world. I like projects that convey a feeling from within and don't only show this exterior view. The challenge is also the fact that I live in Germany, have studied here and have learned this craft here, and despite this I'd like visitors to my exhibitions to really see the people in my projects rather than having only an external view. It's often the case when I supply pictures for newspapers and magazines that I get asked, "Don't you have a picture with a burka?" Yes, I have that too, but it doesn't match the situation as I see it. I like to work against the clichés. It isn't a counter-position but rather a constant challenge to question stereotypes.
It has become kind of fashionable to photograph refugees, and that's wholly ambivalent. How do you avoid a voyeuristic view as a photojournalist?
A photographer is always in this position when he or she is behind the camera. I have my own tactic for avoiding voyeurism. In long-term projects, you can also show other perspectives, say more about the protagonists. For example, I've included the MP in a very detailed way again and let her express herself. This way, you free yourself a bit from this peephole position. But I don't really want to focus too much on the view. The problem as I see it is more about what we all have staring us in the face. We'd need to be blind not to see the circumstances of the refugees who come to us, or the difficulties they face. But maybe we want to turn a blind eye.
What are you working on at the moment?
I've just finished a project you can also see on my website. It's called Die Unbeugsamen. Vier Frauen in Kabul – ihr Alltag, ihr Kampf, ihre Träume. [The unyielding ones. Four women in Kabul – their everyday life, their fight, their dreams.] This project took five years. I followed the lives of the four women the whole time and it still isn't completely finished. I experienced all the women's ups and downs and I show that very intimately, also when they're at home. One of them is a baker. She has a child and a husband who's an opium junkie. There is still the question about what happens when the West leaves this country completely, which is why I continue to follow these women.
I'm also involved in the video editing of a project by the New German Media Professionals association called Handbook Germany. I work here with lots of Syrians and Afghans who are new here. It's good to talk to them and exchange information and experiences. I'm missing Afghanistan a bit right now because I haven't been there for half a year. I'd like to be able to go there again but it's very unsettled. I need time for my projects in any case; I need the developments and if I'm watching for five, six or eights years, for example, then I don't need to be there every month.
I also have several more short-term projects in Germany, but Afghanistan and the women, that's my long-term project, the one I'm really passionate about.