Alphabet of Arrival
Comic journalism offers an alternative approach to the usual way flight and migration are reported. Our author participated in an exciting workshop and tried this format for the first time.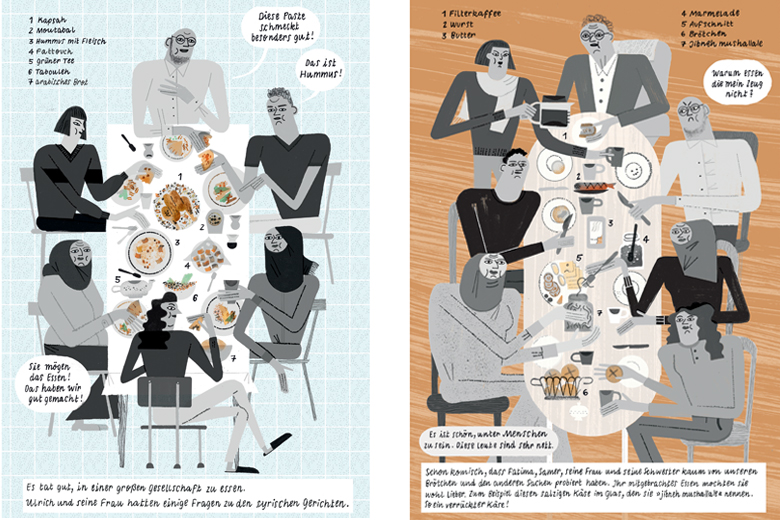 There is little diversity in the way flight and migration is presented in the media and at some point it just makes readers yawn. Since the start of the so-called refugee crisis in Europe and Germany, the media has chewed its way through all kinds of topics: refugees' lives, their escape stories, how they managed it, how they're being integrated, etc. In order to satisfy the public's need for new stories, there have been attempts to make articles and film clips about flight more attractive by placing even greater emphasis on the human angle.
My personal opinion is that current reporting on refugees and migrants is dull. Feature stories that use a mix of text, images and video sequences can still be interesting, but that's about as good as it gets. The theme of migration still plays a key role in my life, however, as I'm a journalist who came to Germany from the "Southern Mediterranean region". I have even written about refugees and migrants myself, always sticking to the same reporting patterns until the day I discovered that I could apply for the "Alphabet of Arrival" comics reportage workshop in Hamburg. Organised by the German Comics Association in partnership with Abwab, the first Arabic online newspaper in Germany, the focus of the workshop was on the topic of arriving in a new country and the challenges posed by integration and living in a hitherto unknown society. Journalists and comics artists from Italy, France, Syria, Eritrea, Germany and other countries had also signed up. The biggest challenge for me was developing a comics reportage from a complex story about migration and identity in just a few days. I had practically no experience in this area apart from having once translated a few articles that formed the basis for cartoons. It was no surprise, therefore, that my mind was full of questions as I travelled from Bonn, where I live, to Hamburg. What will the stories be about? How can you tell a story about the problems of integration, the difficulties of living in Germany and the culture shock for new arrivals in an unconventional, easy-going and entertaining format?
In Hamburg, the first thing the journalists and comic artists did was to get to know each other. We had two things in common: firstly, that we all lived in Germany and secondly that we were all looking for a new experience that involved working together and putting our heads together. The journalists began by presenting their stories and explaining the angle they'd like to take on them then the artists chose the partners they'd like to work with. The clock was ticking: the comics reportages had to ready in just a few days' time. What initially looked like child's play turned out to be an extremely difficult task, both for the journalists, who had never written text sequences for comic panels, and the artists, most of whom had never used a finished text or report as the basis for their work but had instead always relied on their imaginations.
My article was about Bayan, a young Palestinian woman from Hebron who wants to do something for her country and improve the society she lives in but is confronted with difficulties and finally turns her back on her country to study at a women's university in Bangladesh. Her time there becomes an important stage in her life, her studies, her fight for women's rights and her pioneering social work. When Bayan receives a scholarship and comes to Frankfurt to continue reading Asian Studies, she discovers how difficult it is to integrate, as her external appearance means the world around her classifies her as a woman who wears the Islamic headscarf, which exposes her to lots of discrimination and prejudice. Few imagine that a young woman wearing the headscarf would be campaigning as an independent woman for the rights of Middle Eastern women precisely so that they don't become victims of prejudice. Contrary to stereotypical assumptions, they can become proactive themselves and effect positive change.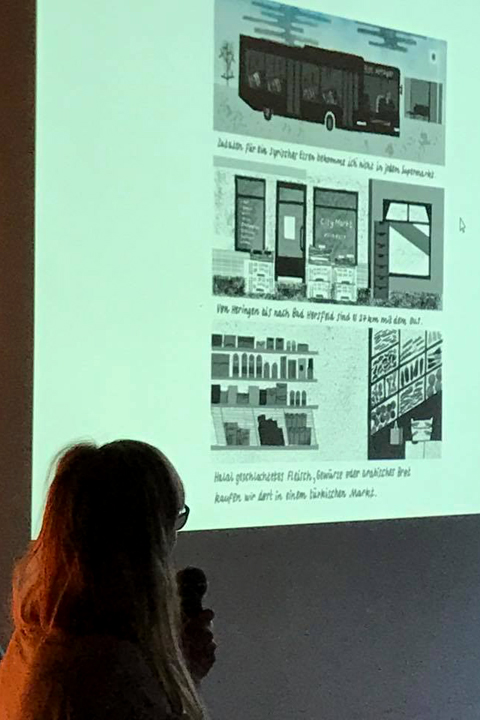 Making a comic out of the story seemed extremely difficult at first. Drawing words such as "identity", "freedom", "feminism" or "discrimination" turned out to be very a complicated matter. I worked with the artist Ilki Kocer and it was no easy task for her to draw and depict the story. Over the course of the week, we had long discussions and talked over and again about the individual stories. The seminar was led by Lilian Pithan (journalist) and Sascha Hommer (comic artist) from Germany. They helped us with tips until the stories finally started taking shape, for example the story about a refugee from Eritrea sitting alone on the train, or the one about a Syrian kanun (zither) player looking for a German group to play music with. The aim was always to create an original reportage that would spark the reader's interest and fuel the imagination.
Maybe it will be possible to use comics journalism to tread new paths away from standard media coverage of flight and migration. This project has shown that social media users are open to this new and original format. In contrast to traditional reportages, the protagonists in the comics have sharper features: the artist's colour design and lines means that faces take on a different dimension that can't be achieved by words in a traditional text format. The workshop allowed me to find a way into comics journalism and art but I also became familiar with collaborative working methods. Many topics were discussed, for example how clichés about refugees change or the need to give refugees' faces a human touch. I also learnt that authoring a comics reportage is different to the usual work an author does and is more similar to writing a screenplay or cartoon script. But there's still a long way to go. Sensitive topics dealing with flight, religion, traumatisation or integration problems require a great deal of tact.