A "Bookshop Encounter" in Pullach
A storytelling salon and reading at the Charlotte Dessecker Library. Fridolin Schley reports.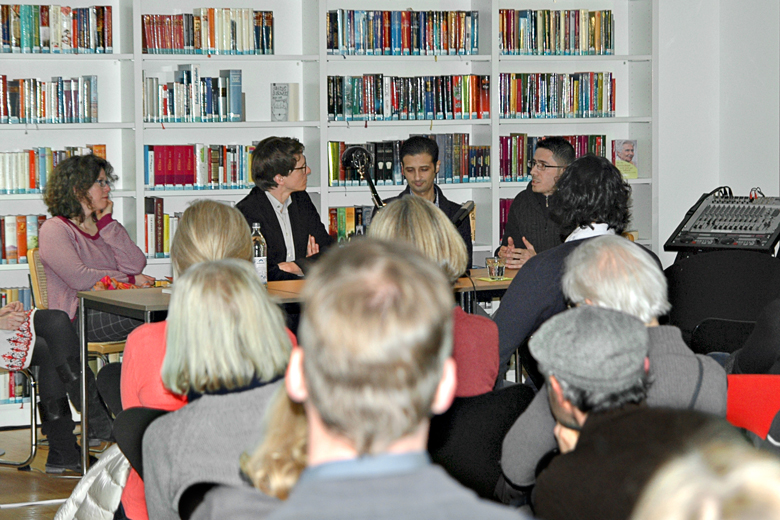 Around fifty guests, most of them from the local area, came to Pullach's Bürgerhaus cultural centre for an evening focusing on the phenomenon of the unfamiliar, the stranger, the newcomer. Taking very different perspectives, the event was an attempt to translate this focus into a way for people to get to know each other. Six Munich-based writers, who mainly read pieces from an anti-racist anthology, shared the stage with four young men from Syria and Senegal, talking about their journey to Europe, their stay in Germany and their plans for the future. There were more Syrian refugees in the audience, currently living in mass accommodation in Munich, who had come to nearby Pullach, as their "refugee helper" put it, "to see for once that there are other approaches to their situation on our society" than the media often presents. Naturally, the recent violence of Clausnitz and Bautzen was inevitably present in the atmosphere – and the recent statistic that there were almost 1000 attacks on refugees or their accommodation in 2015. Three a day on average.
From my point of view, it was a multifaceted, intensive, but sometimes difficult encounter. It was probably naïve of me to imagine we would only have to bring together people from three such different cultures with their very different experiences, violations and expectations in such a place of culture and fill the place with cautious literary approaches, for everything that is often kept apart by diverse difficulties in the reality of social integration to come together in dialogue and mutual appreciation. Those very real difficulties begin with basic linguistic understanding, and the evening made that clearer at times than the participants and audience might have liked. But can that be our aim – an appealing performance?
For the most part, the texts and conversations seemed to be fruitful, with the audience also asking questions and not avoiding controversial issues – such as the almost obligatory subject of veiling, the role and the future of the Syrian dictator Assad or the at times neglected role of women in integrating refugee families. It was not a harmonious debate; there were misunderstandings, inhibited moments and dejected silences. Yet I believe we have to learn to cope with exactly these moments. Because that is how getting to know people works, on a single evening like this one but above all at the further-reaching grassroots of society, in everyday life around the country.
The writers at the event were Jürgen Bulla, Sandra Hoffmann, Katja Huber, Margarete Moulin, Steven Uhly and Andreas Unger. They read poetic texts about the unfamiliar, essayistic reflections on various forms of racism, or provided humorous subversive circumstantial evidence against their own thoughts, condemning the "Pegida in me". The journalist Margarete Moulin, who has been volunteering with refugees for years, reported on a specific case of threatened deportation she has been dealing with.
After every two texts newcomers came on stage, starting with Jamal Aloudtallah and Diaa Saleh, both from the Syrian capital Damascus. They arrived in Germany over a year ago after a tough five-month journey, travelling alone and later able to have their families join them. They had been welcomed very openly here, they said, and no, they only knew about the drastic decline in the sentiment towards refugees from the media, not from first-hand experience. They in turn opened up more with every question, soon losing their stage fright and talking in astoundingly fluent German about their children, the apartments they have now moved into, and their professions. It was only when the question of Syria's future and Assad came up that they apologized – they would rather not talk about the war, simply because they had friends and relatives still in the country whom they did not want to endanger. That instantly brought the war's threat close to home, to the middle of Bavaria. Despite their – how to put it? – admirably exemplary behaviour and integration, we heard an urgency that served as an important corrective to the evening's harmonious togetherness. The lives of these two men and their families seem to be going well. But that doesn't mean everything is fine. And not only because the war is still raging. They also miss working in their professions; Jamal Aloudtallah is an anaesthetist, for instance. They want work, proper work appropriate to their training. That, it became clear, was their greatest wish for the future – along with their optimism and hope. The bureaucratic procedures for work permits are underway.
What the two Syrians intimated between the lines – all the gruelling uncertainty, the traumatic experiences, the hardships away from home, the longing for the familiar – was almost painfully present in the second conversation, with Abdoulaye D. and Souley S. We got an inkling of how high even the hurdles of communication must be, of understanding and being understood, at all times, when Abdoulaye D. said at the very beginning that he could barely understand the event, unfortunately – and I failed to understand his remark several times myself. My fellow writers had to help me out – an oppressive feeling. And how must he feel in his situation? Every day. The dilemma was not helped by his additional uncertainty at being exposed on stage, making him speak quietly and haltingly, keeping a safe distance from the microphone and the audience, who soon responded with calls of "Louder, louder!"
No doubt longer preliminary conversations on my part and a more precisely prepared schedule would have helped (or perhaps a more open seating arrangement with the speakers less exposed); as it was, Abdoulaye D.'s discomfort spread to the audience. But the more he managed to make himself understood – little by little and with the help of his German teacher – the clearer it became that his discomfort sprang not only from his position that evening, but from his situation as a whole. As much as he tried to learn German, he stressed several times, and as grateful as he was to people like his teacher, it remains difficult, he remains distanced from society. His life here is simply not good. His family is still in Senegal; he hasn't seen his daughter for six years. Now he wants to collect money for a workshop and return voluntarily – presumably to pre-empt a deportation, because Senegal is officially regarded as a safe country.
It became clear how far these classifications often are from reality (the writer Sandra Hoffmann later shared something similar from her trip to Albania) when the second Senegalese refugee Souley S. talked about his father's murder back home. Countries like Senegal are often shaken by brutal conflicts between clans; that may not fit into the common pattern of dictatorship, Islamist terror or civil war, but it certainly does not make them "safe countries of origin".
Are we entitled to ask someone like Souley S. about his flight? In retrospect, I'm not so sure. He seemed to be too haunted by fear when he began his tentative answer. Nonetheless he told us, in quiet detail, in French and translated piece by piece by the journalist Margarete Moulin, who assisted spontaneously, with clarity and empathy. He told us about his long journey, the smugglers and the boats. There was no need for him to put the horror into words; it was written on his face and in his voice.
The final text before the audience and participants regrouped for a small reception and new conversations – with food and drink generously provided by the library – was Sandra Hoffmann's story "Fremdkörper", meaning "foreign body". In it, she recalls Orhan, a childhood friend and the son of Turkish guest workers in the middle of the tranquil Swabian countryside in the early 1970s. She remembers him becoming automatically familiar to her as a child, simply by the fact of them both being there, sharing a village, a school, a location and their paths crossing there. "That was how it was then, when I was four years old, when my body got to know a Turkish boy's body quite incidentally. Orhan Kutlucan peed on the same children's toilet as I did, and Nurse Soteris smacked him on the arse when he said rude words with the same brush as she smacked me with." And, her last line said, she believes sometimes our own bodies know more about openness towards the unfamiliar than our heads do. Our heads can learn from our bodies.