"The applicant is called upon…"
Abas has received a notice of rejection. A shock for after a long odyssey from Eritrea to Germany he finally seemed to be safe. But that safety is threatened. He is said to leave the country.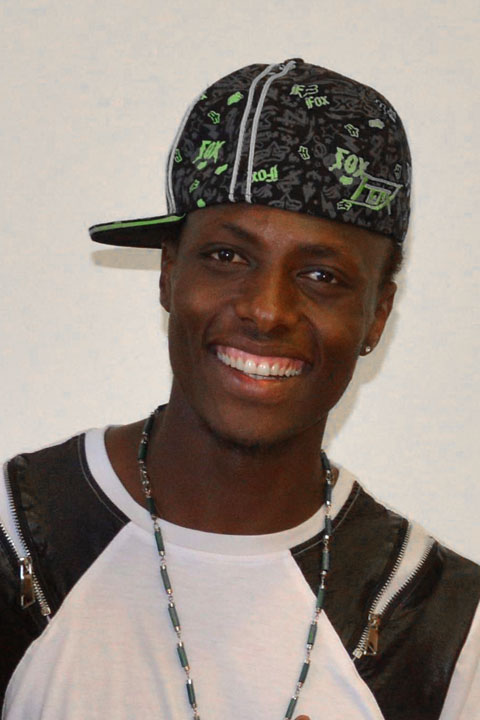 Abas Ahmed Salih's asylum request has been rejected. The reason: the applicant was not able to reasonably prove that he is in need of protection during a hearing on April 7th 2017. Abas is in shock. Neither a hearing took place on the April 7th 2017, nor did he receive a letter or an appointment. The attorney files a lawsuit. The schools attendance calendar proves Abas was attending classes in Landsberg on April 7th 2017. Therefore he impossibly could have been in Munich at the same time to attend the hearing of the BAMF (Federal Office for Migration and Refugees).
Legally born as son of free parents in 1995 in Keren, Eritrea, his mother commits suicide when he is two years old. Shortly after his mother's death his father becomes victim of the regime and is abducted. Abas and his sister Halimah are left by themselves. An acquaintance takes them to Addis Abeba where he lives with his wife and two children. His wife is not very fond of the sudden addition to the family and openly shows it. Dangerous times. Many Eritrean refugees live in Addis Abeba. Being illegalized they do not have any access to medical care or are allowed to work. Arrested by the police they face being jailed, tortured or even being put to death. Meanwhile Halimah is 13 years old and she lives in great fear. She flees to Sudan. Without his sister, Abas has no protection anymore. The lady of the house keeps him as a child slave. On a daily basis he absorbs blows, is humiliated and faces the deprival of food.
2010 – Abas is 15 years old. Life in the house is unbearable. And so is the longing for Halimah. Abas abstracts money and ventures the fleeing to Khartoum. He searches after his sister. Unavailingly. But Abas does not surrender. He finds a cleaning job in a cafeteria. He swats 16 hours daily for living on the breadline. He sleeps on the streets in order to save money. Again and again he is victim of mugging and aggression, beat up and his money stolen from him. "They took my money many times but I could not tell anyone", he narrates. No identification papers, no rights. Illegal refugees cannot turn to the police as they would be brought to jail immediately.
Five years Abas searches after his sister but Halimah remains disappeared. Abas decides to leave Sudan. He has saved a little money and deposits some of it at a friend's place.
Smugglers take him from Khartoum to the boarder and from there through the desert to Libya. 28 humans jammed on a truck bed. Some of them die. Abas is in mortal fear, apprehending not to survive the journey. Exhausted he reaches Benghazi, tries to orientate himself and gets into a police control. He is put into jail.
"In jail there were two cages made of thick iron rods. In one they kept 50 men and in the other one 50 women and children. It was so tight that only few could sleep while sitting. Everyone else had to stay standing. The security guards were brutal and sadistic. They were drinking and doing drugs. Nearly every night they would come for the women and children and rape them in front of the men's cage. They made everyone watch. The women and children were screaming. Men who were protesting were tortured with electric shocks, beat up and burned. They too would come for us and torture us without any reason. Almost every night."
Abas manages to make contact to Khartoum while being in jail. His friend takes care that the saved money gets to the right places. Abas is released and makes his way to Tripoli. Because he is scared of the police he goes into hiding. Smugglers organize a seat on a fishing cutter. In panic to overturn due to the any moving 300 humans almost motionless sit nearly the whole day in the "nut shell". Finally! The helicopters pilot calls for help. The refugees are taken on board of a life boat. At the end of June 2015 the boat anchors at the Italian coast.
The next morning the new arrivals shall be registered at a reception camp in Rome but Abas does not want to leave his finger prints with the Italian authorities. He has heard of many refugees ending up in homelessness and without the option to find a job. That night he flees from the reception camp with a group of Eritreans and reaches Rome Central Station. Without any money he boards a train to Milan. Train guards multiple times expel him from the train. Abas gets off the respective train and boards the next one – again and again – until he finally reaches Milan. Helpers donate clothes and food.
July 2015. Hidden in the toilettes Abas travels to Munich by train. Again he his taken to a reception camp and is moved to Fuchstal-Leeder shortly after his arrival. Abas speaks a little English. He helps the volunteers with translations and begins to study German.
January 21st 2016. Hearing at the Federal Office for Refugees and Migration. In the scope of my volunteer work I accompany Abas. He is terribly nervous. The interpreter is hostile and imprecise. Abas overcomes his fear and describes the horrors of his imprisonment in Libya. The interpreter translates: "He was in jail for five months." I interrupt. The clerk reprimands the interpreter. Despite the fact Abas composes himself and repeats his story as good as he is able to in English the report later will read: "… he was in jail for five months."
March 14th 2016. Abas has an appointment in order to take a language exam. We are waiting – for hours. Suddenly a hectic voice: All the persons present shall immediately leave the building!
A police van pulls up in front of the building. Armed police officers storm up the stairs. There has been a conflict on the upper floor. Frightened and appalled people run from the building. There was utter chaos. Abas and myself stay in the lobby. Abas refuses to leave the building. He needs a certification that he has been there to attend his language exam. Without such certification he fears he will be expelled from school. After half an hour an employee comes to talk to us. Finally after an hour we receive a stamped certification. It reads the blameless cancelled appointment will be caught up on. But Abas awaits a follow invitation by the authorities vainly for more than one year.
"Turn to the sun leave the shadows behind you", is an Eritrean saying. Abas tries hard to exactly do so and he does it properly. He studies and speaks German, attends school and will soon graduate. He has a signed indenture for an apprenticeship for the job of his dreams – which is to become a cook – in his pocket. In his spare time he sings in a band and plays soccer at the local soccer club.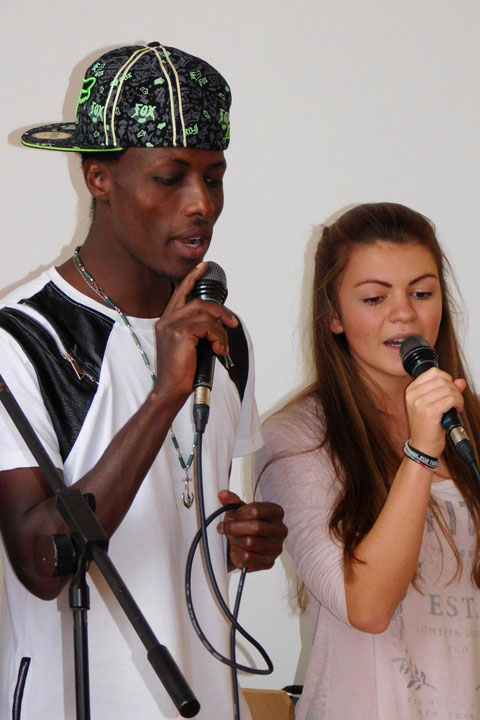 April 2017. Instead of an invitation for a hearing Abas receives the notice of rejection. Whether it is arbitrariness, incompetence, ignorance, indifference or all of it together – none of this should and may be the basis for a decision over a humans destiny, if even life and death!