Candid and poetic: young refugees and local youths talk about their aspirations and longings
 Young people from Afghanistan, Syria, Albania and Germany meet at Theater Morgenstern in the Berlin district of Friedenau to talk to each other about their histories, situation and longings.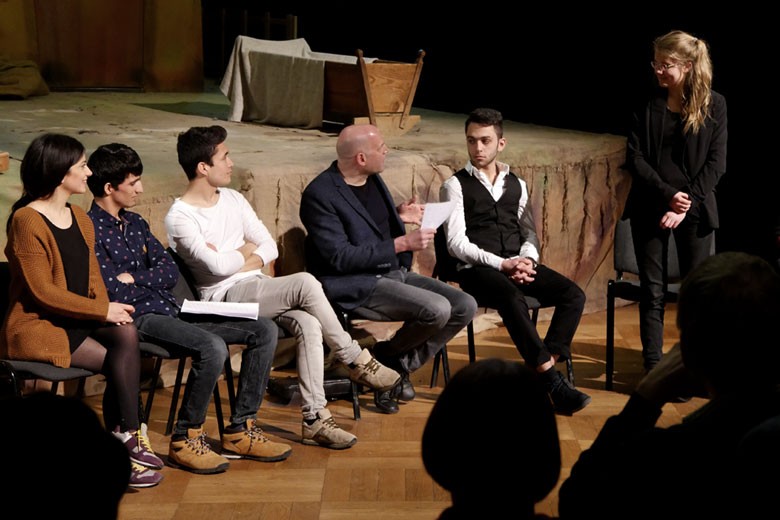 It was a wonderful and very moving Saturday. We had a full house from the start. People in Friedenau were very keen to get to know the newcomers to the district. A few residents from the town-hall accommodation were even there for the whole day. That was great. In the evening, two Afghan musicians played live. Young people from Afghanistan immediately started dancing and enthused Friedenau locals with their lust for life.
The big attendance meant the original location for the discussion salon was moved from the smaller space we had intended to use to the auditorium itself. I don't think I would make the same decision next time, at least not with youths, as a more intimate framework is better for young people. I would also plan in more time or reduce the number of participants, as on the day I would have liked to hear more from each individual person, particularly about their joie de vivre and what they used to get up to in Aleppo. One Syrian teenager talked about it in a dense, poetic text he read out, while an Afghan boy told an incredible story about how he found himself totally alone on the road and made the journey from Greece to Germany on foot. The event was held in German, Farsi and Arabic.
The storytelling circle featuring personal histories was enhanced by the sensitive and thoughtful way in which the Berlin-based author Florian Werner hosted the event. Next time, we will expand the discussion and open it up to the audience. We heard so many stories that there was too little time for questions.
We'd like to use this format regularly with both young people and adults, e.g. direct from the town hall accommodation, so that the people in Friedenau have a real opportunity to get to know the people, learn about their skills and enter into mutual dialogue with them. We're thinking of starting a regular culture café – Hafis' Salon or something similar.
Overall, this afternoon in our theatre was a very promising start and we're looking forward to more events like it.