Hard Times, Soft Hearts
15 Impressions from a night at Buchhandlung Thaer in Berlin.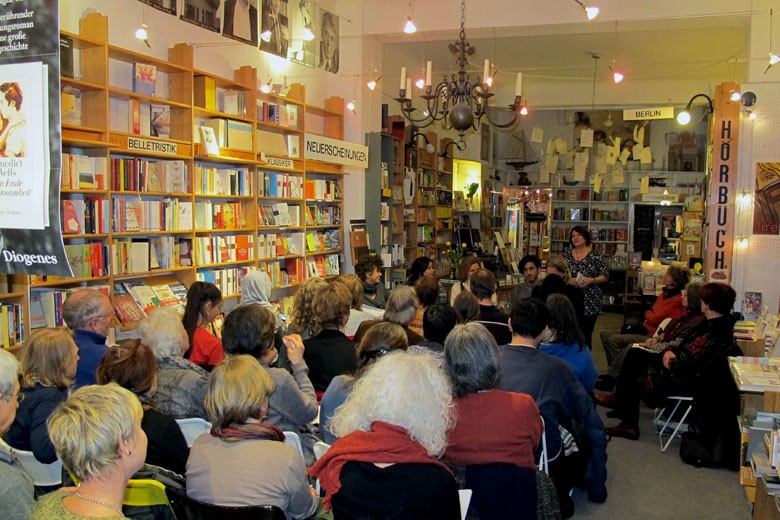 1. "The selfish one is not he who insists on living the way he wants. The selfish one is he who insists everyone else live the way he wants." These words, expressed in a calm, Syrian-inflected English by Ferial Bergli, pealed through the Thaer Bookshop. They bounced off the shelves, rolled along the spines of hard– and paperbacks, rang in every ear and continued to echo in my mind long after the event was over. Those two sentences set up an existential dilemma: how to live in a way that's true to oneself and fair to others. A dilemma we all feel at some point, and which is confronting some of us more starkly than ever since thousands of newcomers arrived in our midst.
2. The discussion, skillfully steered by the Palestinian writer Adania Shibli, offered a perspective on the personal and political backgrounds of three very different women, who nevertheless had experiences and views in common. Katja Ponert, a member of the Wir Machen Das Rechtsberatungsbus team, described her formative gap year in Paraguay and Chile, which exposed her to the vast differences in wealth and privilege that exist across the world, and made her resolve to study law in the belief that inequity can be addressed through the judicial system. Zahraa Qais recalled a time when things were better in Iraq: for all the horror of Saddam Hussein's regime, women's rights at least were held in some regard, and this gave Zahraa a sense of how the law could influence life and made her want to be a lawyer. Ferial was more ambivalent about the power of the law, saying that for her the periods of hope that women would have equal rights in Syria were always short-lived. Yet she managed to make a life as single woman with three children, giving private English lessons to earn money.
3. After a few minutes of rather stilted translation into English, the interpreter, Salem, confessed that recently he'd been totally immersed in learning German and was finding the switch to English challenging. "May I translate from Arabic into German instead?" he asked. And so we witnessed this unusual moment of someone registering that one language has overtaken another in his brain, and that he is, at least for this moment, more comfortable using the new tongue – barely a year old in his mouth – than the old one – English – that he spent half his young life learning.
4. Ferial, who left Damascus after her apartment block was bombed, revealed that her original intention had been to get to Sweden, and Germany had simply been one more stop along the way. But soon after arriving, she fell ill and was unable to travel on right away. So she ended up applying for asylum here. Her fate, determined by great forces, like geo-politics, religion and war, was suddenly decisively decided by an international virus – the flu.
5. A man in the audience suddenly raised his hand and said something in Arabic. He was asking, the interpreter clarified, if we could translate the English/German into Arabic as well, not just the other way around. That small act of assertion was another sign that our society is changing: there are people who want to be part of it and need us to make the way in a little more accessible. Sitting through the stretches when Arabic flowed was a reminder to all of us non-Arabic speakers of what the newcomers experience daily: language as an incomprehensible melody whose meaning you long to decipher.
6. "Nobody wants to leave their country," Zahraa said. She described the anxiety that had dogged her life in Iraq for over a decade. "War is insecurity." She added that she could have accepted this for herself – and did in fact for a long time. "I'm strong, I'm an adult. I could find a way to cope." But having a child changed everything. She did not want her daughter to grow up in such precarious circumstances, deprived of basic freedoms and feeling constantly under threat. That's why she headed for Europe.
7. "The years of soft democracy in Germany are over," Katja declared. I think she meant that being a citizen is no longer a part-time, light-weight hobby. Gone are the times when it was enough simply to talk of equal rights and opportunities for all, when the most strenuous of our democratic duties involved turning up to vote. The new reality demands a new attitude. This pose is a tougher one. It requires the heavy-weight work of public protest, argument and engagement. It means keeping eyes wide opendifficult the situation looks. It means sticking elbows out – ready to link arms with all those who want an inclusive society and also, where necessary, to defend against the xenophobes. Now is the time of heavy-duty democracy, when the mettle of our values really gets tested.
8. Where do you live? What's your daily life like? Are you learning German? Do you go out and about in the city? Do you have friends? These were the things the audience most wanted to know from the newcomers. "I have many friends!" Zahraa laughed. Some of them were in the audience. She pointed to her English teacher, Silke, and fellow student, Saddam from Pakistan, and Hassan from Aleppo. Ferial too had friends present. In fact, it turned out friendship was the very bedrock of the gathering. I had planned the event with my friend Adania. Zahraa and Ferial agreed to take part because they're friends of ours. Katja came through a friend who also volunteers for the Rechtsberatungsbus. The bookshop owners Elvira and Walther Hanemann agreed to host the event partly because we know each other, having kept in touch after a reading I did at their shop three years ago. At least half the forty-strong audience was there because they had heard about the event from a pal. Friendship is the soil that nourishes our roots and branches. However old, new, strong or weak these offshoots, we hang together by them and grow with their support.
9. "What about all the newcomers who haven't been lucky, who don't yet have – and perhaps never will – a local friend?" audience member Magdalene Heuser wondered. She was sitting beside a young Syrian man, also called Salem, whom she'd offered to teach German after seeing how chaotic and sporadic the language courses on offer were. Katja could only sigh: it is an all too common scenario, not enough rooms or teachers or courses. How can we have successful integration if the basics aren't in place? Salem's lessons take place at Magdalene Heuser's home. He's become part of her life. She talks about him to whomever she meets. Thanks to this, news about him spread and he's now got an internship, as well as a part-time job in a bar. Word of mouth. The age-old strategy appears to work for promoting newcomers as well. Certainly, the bookshop audience seemed sold on Frau Heuser's conviction that being engaged with refugees means being enriched.
10. Someone else in the audience remarked that two refugee homes had recently opened up in Berlin-Friedenau, meaning hundreds of refugees had moved to the area, and yet she didn't see any sign of them in the streets. "It feels like nothing has changed," she said, somewhat disappointed. She described her thwarted attempts to get into the homes: high security and long registration times meant it was difficult to reach the refugees. "They have to change the rules," she said. Magdalene Heuser disagreed, "We can't sit around waiting for something else to change. We have to act and by our actions force a transformation." She's right. The state will always fall short – legally, socially, politically – because nations are constructed on the premise of exclusion. The ideal conditions for an inclusive society don't exist, and probably never will. We can only strive towards more inclusiveness and hope that our efforts catalyze better provisions inter/nationally.
11. What's still missing in your life? Adania asked the newcomers. Now that their basic needs were met, what did they want? The resounding answer was: privacy. A room of one's own. Salem, Magdalene Heuser's Syrian friend, added that he wished for Internet access at home. It was a reminder that the virtual space is vital, because it is the only place where many newcomers can re-connect with the world they left behind.
12. Bookshop owner Elvira Hanemann told everyone about a new project she's starting called Kulturcafé, part of the larger local initiative Friedenau Hilft. The plan is to arrange fortnightly cultural evenings where newcomers and old-timers can come together and get to know each other better through music, film, art, dance and literature "If you have any suggestions, please contact me!" Elvira appealed. "We need more volunteers and more ideas!"
13. "We must see the newcomers as political actors, individuals with the capacity to contribute ideas, words and energy to our democracy" Katja Ponert reflected. "We have to let go of this fear of the strange, and this fear of losing something."
14. "Thank you so much," Zahraa said to me afterwards. "Thank you for giving me this chance to speak. I really wanted to tell people what I think." A few days later, her teacher Silke wrote to me: "Thank you for giving Zahraa an opportunity to shine. My student, Saddam, whom you briefly met was very impressed with the evening. It gave him a glimpse into a Germany that he is not in touch with at all at his Heim." For all of us, but especially for newcomers, arrival is a recurrent act. Again and again there are first entrances – into different life phases, new relationships, fresh challenges, novel perspectives, unfamiliar notions. Each arrival is not just a beginning, but an assertion of existence, a victory flag for endurance.
15. Perhaps the most revealing part of the night came after the event, when people began to talk amongst themselves, and I overheard one woman say to another: "I would like to know who the other refugees are, the ones who organized and moderated the event." Meaning Adania and me. I was struck at how even amongst those most open and ready to engage with newcomers, the default assumption was that all the non-white people in the room are from elsewhere. Of course, in this instance, the woman was right. Adania and I are both from some other place(s), but we are also from here. As all the newcomers will be. One day, soon. As soon as we can imagine that they already are.

This article by Priya Basil was originally published in the Zeit-online 10 nach 8 blog.