Long journeys
At seventeen, Karamo Jabbie made the difficult journey from Gambia to Germany all on his own. In a music workshop in Berlin, he cooperated with other youth who came here on their own in search of a better future and together they produced a multi-lingual rap song that connects their different stories and honors their common struggles.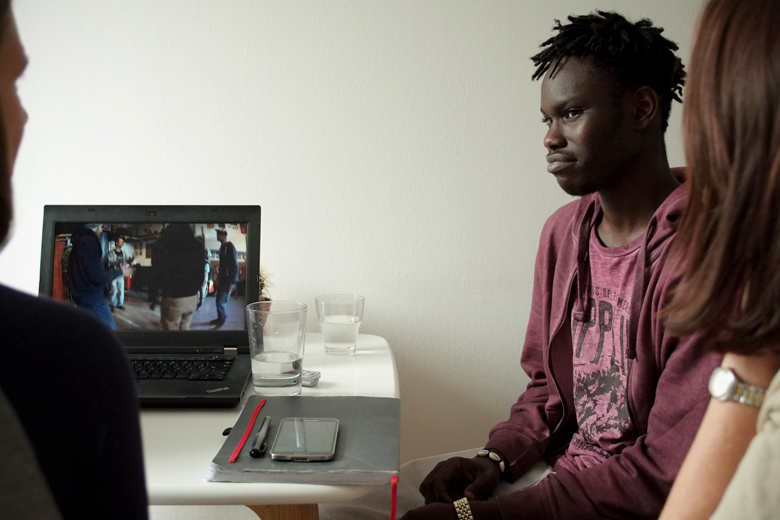 What is it like for a 17-year-old to make the journey alone from Gambia to Europe? What is it like when he has finally arrived and must adjust to a completely new environment? Karamo Jabbie has answers to these questions, because he underwent this journey to come to arrive in Berlin, where he has been living and studying since last year. "This experience did indeed change me," states Karamo, "you could even say that it made me grow up a little faster. Because you see a lot and you experience a lot. The things that you didn't know as a kid, you are now seeing for yourself, it's not like when somebody is telling you about them; seeing is believing. So, it just teaches you a lot." But what do you do with these experiences when you're so far from friends and family? He explains that it has been particularly hard for him to find new friends in the city, especially German friends.
Karamo is not alone with the experience he has lived through. At the Jugendwohnen Kladow (Youth residence Kladow), where Karamo spent his first couple of months in Berlin, there were many other young people who had come alone from their home countries; Boys between the ages of 14 and 18 from many different countries who had already been in Germany for a few years, a few months or even over a year at the time they moved to the Jugendwohnen Kladow. Traumatic events at home and in the difficult journey to Europe, worry for the friends and family left behind and homesickness are just some of the struggles the boys are forced to deal with while simultaneously trying to find their place in an entirely new environment and fearing for their uncertain future in Germany. Having to completely depend on oneself in a situation like this is not easy. One must hold on to those moments of untroubledness, when all worries can be temporarily forgotten.
In Karamos case, these moments came during his time in Kladow in the form of a Music workshop. His supervisor had the idea and he was immediately on board with it. "Back in my county, I had a lot of friends who were just freestyling and rapping, I was not involved at first, but you know friends, they always get you involved. So, I started writing stupid stuff in the start, but it just developed and when I came to Europe, I was in Italy for three months and I kept on writing and it grew from there."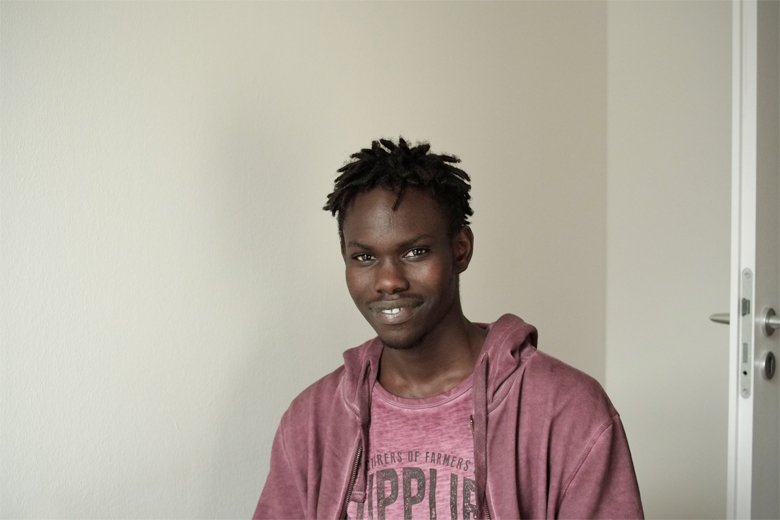 Karamo sees the famous rapper, Eminem, as his mentor and it was his music that inspired him and his friends back in Gambia where they always listened to his music. Karamo has worked on his writing and finds that the words come more easily to him nowadays. In the youth residence in Kladow music was always present anyway. In the common space different sounds would come ouf of every corner and melt together.
The small group that finally gathered for the workshop at TuneUpe.V. did not have much in common, except their interest in music. "We were totally different people from totally different places, but we just started doing things that we didn't even think we would do." Remembering this Karamo starts laughing. "We were just hitting drums, making noise, bouncing and jumping around… going crazy, you know? Yeah, it started off that way and then we started talking."
In the workshop the boys got to try out different sounds and instruments and together with the TuneUp team they recorded and edited their own song. Karamo tells us about the most important thing he learned at the workshop: "I thought I was the only one feeling like missing the life and family back home, but when I met those five other boys and we started linking, writing stuff, making beats and having fun, they were also telling me the same thing, you know, we have different stories but we all miss what we left behind."
In the song they produced together, "Weite Wege" (Long journeys), the boys sing and rap in German, English, Arabic and Farsi about their experiences, about homesickness, memories, their routes of escape, and the difficulties of their current situations. But they also sing about their positive experiences in Germany, about their faith in a better future for themselves and, very importantly, about love (in a general sense). Karamo dreams of studying medicine one day to become a doctor. That is why he wants to start off by completing a training in nursing as a first step after high school. He also wants to finally make new friends, but unfortunately his school community is socially segregated and the students at the "Willkommensklassen" (Welcomeclass) rarely get to interact with the other students. But hopefully after he has already completed such a "long journey" in his life, surely the path to find friends in Berlin will also be one he can complete soon.
Here is the video