Magic is here – Meet your Neighbours presents the NeuLand newspaper at Literaturhaus München
At the Meet your Neighbours evening at Literaturhaus München (House of Literature Munich) on May 3, Sandra Hoffmann and Denijen Pauljević met authors and editors from the NeuLand (NewLand) newspaper, which since 2015 has been offering refugees an unfiltered opportunity to speak out and enter into dialogue with people already living here.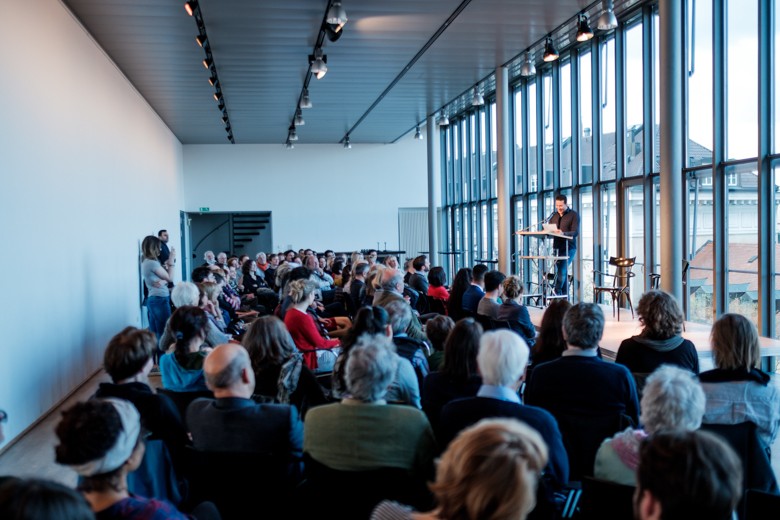 It was the first time a Meet your Neighbours event had taken place at Munich's Literaturhaus. The event was initially intended to be spatially and thematically embedded in Herlinde Koelbl's Refugees. Eine Herausforderung für Europa (Refugees. A Challenge for Europe) exhibition, which is well worth seeing, but the many advance registrations for the event meant that it was moved to the foyer on the third floor of the Literaturhaus. This meant that participants and guests at the 10th WIR MACHEN DAS (WE'RE DOING IT) event in Munich could enjoy an impressive backdrop of evening sky, roofs and the veiled church dome. More then 100 people came to discover more about the NeuLand newspaper and meet its authors.
The community project NeuLand can be traced back to a single person. Susanne Brandl, a volunteer journalist at the regional television channel SWR, described a vision to the public that had emerged from a spontaneous idea and her own curiosity in the summer of 2015 when she asked herself, "What is going on in the minds of people who fled to Germany?" It annoyed her that most media coverage focused mainly on escape stories, more on the past than the here and now. She also sees the victim stigma surrounding refugees as a hindrance to integration – and thus the idea was born to give newcomers the opportunity to integrate themselves pro-actively into society with their own writing and its publication. Susanne Brandl is now running the project with Raphael Müller-Hotop, supported by around a dozen editors who work on the texts with their authors. Four editions of the NeuLand newspaper have so far appeared and the initial print run of 8,000 copies has now increased to 10,000. The newspaper can be read for free at many places in Munich and it is also possible to download the digital version from the NeuLand website (most of the texts put forward are included in the current 4th edition).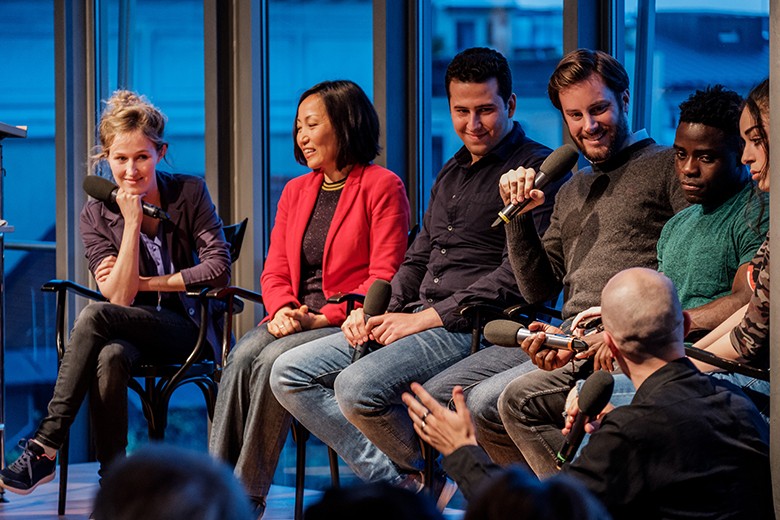 Hosted with empathy by Sandra Hoffmann and Denijen Pauljević, five NeuLand authors read out their texts at the Literaturhaus, giving the audience insights into five different worlds (of origin). The first author, Adnan Albash, from Damascus, said that his motivation for writing was to communicate better with "the people here". In Syria, the medical student had no urge to write, and alongside school and his university studies he also had no time for it. His article on the different uses of the little word 'no' in Syria and German sparked lots of laughter. In it, he encourages German readers to offer a guest from a foreign country food and drink for a second time, even if the first offer was rejected with a "no thank you" – maybe that was just normal politeness elsewhere. In order to avoid this kind of cultural pitfall, Adnan, who came to Munich at the start of 2015, now writes his articles directly in German. He said that it's easier than translating from one language into another. We should also congratulate him for having just passed the German language test for admission to the Ludwig Maximilian University of Munich where he is now hoping to continue his undergraduate studies in the autumn.
James Tugume, who came to Germany from Uganda in November 2014, followed Adnan with another good dose of humour. In his article Magic is here, he praises the wonder of the German health insurance scheme, which saved him right at the start of his new life here when his incisors had to be replaced after an unfortunate clash with a glass door. He said that in Uganda your 'health insurance' is at best a cow, a motorbike or a small piece of land that you can sell in the event of illness. "But it's not easy to sell something if you're seriously ill or have just had an accident," he said. James loves everything to do with sport (evident in his arm muscles!) and is now working as an asylum counsellor in the refugee advice centre in the Harras area of Munich. Only in passing does he mention the strokes of fate that have fallen upon him: he became an orphan in his home country at the age of eight, lived on the street and later in an orphanage. After graduating with a Bachelor's degree in social work, most of which has fortunately been recognised here, he later worked in the same institution with 32 children.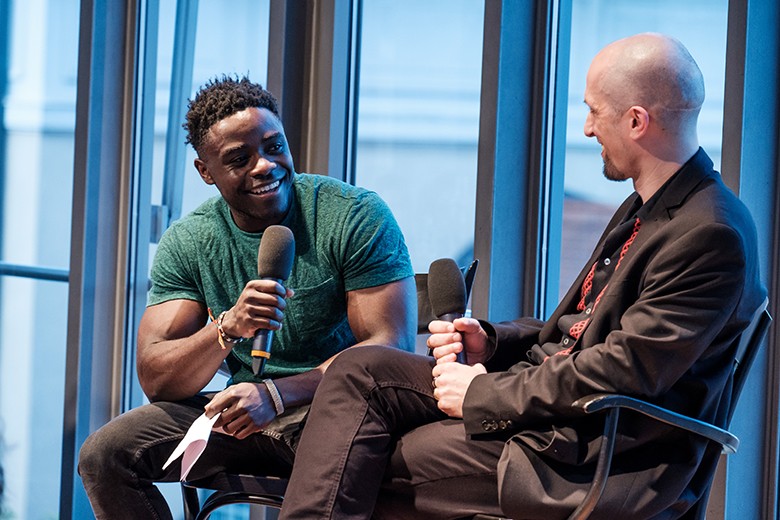 Next came Shirin Mirza Khalaf from Iraq onto the stage. The 16-year-old, who is currently in Grade 8 at a German secondary school, was accompanied by her older brother Sultan, who also worked on the text. Her first words were, "Sorry that you won't laugh." It was a telling sentence for what Shirin experiences every day. It isn't easy to talk about what she and her family and other Yazidis have been suffering in Iraq since 2014. As you listen, the horror becomes unbearable. Very emotional, but nonetheless confident, Shirin read out her oppressive text – "I'm really sorry, that's our truth," she emphasised over and again – and answered Sandra Hoffmann's questions. A lovely sign of her successful integration into Bavaria after two years could be noted at this point: when Sandra sees Shirin fighting back tears and mentions to her that she doesn't need to talk any more, Shirin spontaneously replies, "It's fine." One wouldn't wish having to deal with such themes on any young girl, but for Shirin the persecution and oppression of the Yazidis in Iraq by the Islamic State has now become a vital topic. She spoke particularly on behalf of the women who are raped and forced into slave labour. She now feels safe in Germany but also stated, very clearly, "Regardless of where we're living, regardless of how happy we may become, the feelings and the memories of the atrocities stay in your heart and mind."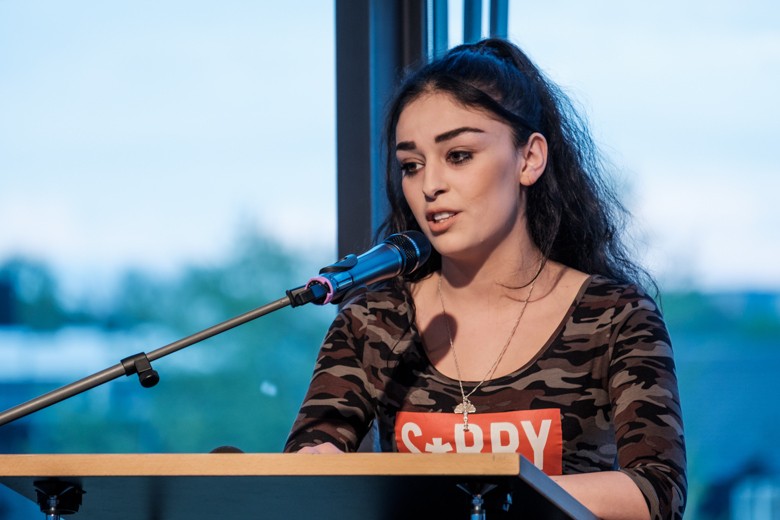 Asef Naderi from Afghanistan, who has been in Munich since 2013 and is currently training in a dental laboratory, then asked a question about corruption in Germany based on the story of a rip-off bus driver. This serious young man, who is in free time is interested in a curious mix of maths, chemistry and Bollywood films, showed a critical mind elsewhere, too, as another of his articles talks about fair pay, also for (immigrant) temporary workers. His dream? "To be able travel to Iran. I saw during my escape that it's a very beautiful country."
The social education worker Munkhjin Tsogt from Mongolia concluded the readings with a motivational text on how to realise her dreams in Germany. Even if it wasn't easy for her to adapt to the new living conditions at the start (although in contrast to newcomers from southern countries she doesn't complain about the weather: "I do come from the coldest capital city in the world after all"), after five years she now feels so much at home that she has mixed feelings about her first trip back to her old homeland, which she's planning this year. With her young son on her lap, she also talked about how she discovered NeuLand: "I saw a copy of the newspaper in the library and immediately wrote an e-mail."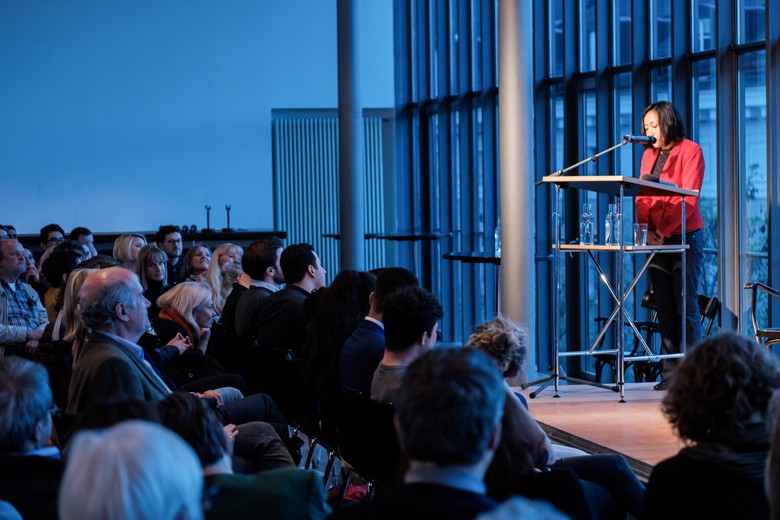 Raphael was pleased to hear these words, as this is exactly how it should work – non-bureaucratic contact with low thresholds that motivate as many other newcomers as possible to share their voice, their view and their own experiences with others. It's for plurality and against the fear that exists on all sides and which, unfortunately, is often still being stirred up by the conventional media. The NeuLand authors know a thing or two about this: James's first text was called Der Dschungel ist hier (The Jungle is Here) – thoughts on how it's mostly the case that people initially see danger in strangeness –, and Adnan says, "People only know about us and our countries from news programmes, and news programmes only report the bad things."
NeuLand is the antithesis to this. Closeness is created by telling; connectivity is felt more strongly than separation. When reading the NeuLand newspaper, it's actually a special experience to be reading reports written solely from refugees' own perspectives rather than any well intentioned 'about'. Wholly in the spirit of the Meet your Neighbours series by WIR MACHEN DAS (WE'RE DOING IT), it became clear how enriching it is to talk with each other rather than about each other. How essential it is for integration that people meet people and that newcomers have fixed contacts also became clear in the thanks that each of the authors gave, not just generally but also personally, to a teacher, a voluntary refugee helper or a NeuLand editor. In this sense, 'magic is here' can also be said of this evening at the Literaturhaus München.