Meet your neighbours with Ayeda Alavie and Martin Lickleder at Buch in der Au
Ayeda Alavie and Martin Pflanzer from the publishing project Hagebutte Verlag were guests at Munich's Buch in der Au bookshop, which was a full house on the evening of November 17. The Meet Your Neighbours event, which was hosted by Martin Lickleder, sparked lively discussions about Persian poetry, about coming to Germany and facing a new language, and about the opportunities for cultural exchange.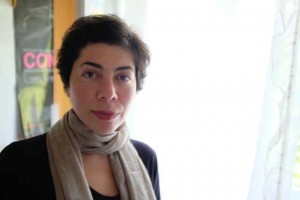 Ayeda Alavie forewarns her audience: she will definitely be too quiet and probably not good. The guests at Buch in der Au hang on her every word and listen closely as the Munich-based Iranian uses German and Persian versions of Gheysar Aminpour's poems to evoke a more than sniffling winter morning.
On a Winter Morning
The final slices of autumn bread
Were blown away in the wind
Cold snaps had turned the sky blue and lilac
Sunrise hid with red cheeks
Behind the mountains
The wind shuddered
The clouds coughed
And the roof gutters sneezed
Seemingly, the sky had a cold
The Iranian poets Gheysar Aminpour and Biok Maleki, who Ayeda has chosen to celebrate on this evening, are two of the most important people in her life, something she quickly makes clear. They were her role models, her teachers and – most crucially for Ayeda – her editors at the Iranian youth magazine Soroush Nojavan where she was already working as a teenager. The literarily demanding, high-circulation periodical was not only aimed at young people but also employed them as authors and reporters. When Ayeda was thirteen, she took part in one of the magazine's regular competitions, a reportage contest for twelve to eighteen-year-olds. Her story (illustrated with a few photos) about a flood in Teheran she experienced as a twelve-year-old and couldn't forget came first, which meant that she could start her career as a reporter for the Soroush Nojavan immediately. At the same time, she wrote stories and poems that were either guided or at least edited by Aminpour, Maleki, Fereidoun Amouzadeh Khalili and other well-known Persian poets. The combination of journalism, poems and stories suited the multi-talented Ayeda but it isn't a wholly unusual one in Iran, as Ayeda makes clear when she talks a bit more about Persian literature. "Persian literature is basically on a par with Persian poetry," she says. "Everyone in Iran has written a poem at some point." Martin Lickleder adds that seventy per cent of Iranian blogs are used to publish poetry.
At the youth magazine, Ayeda learned to write stories and poetry, and developed her journalistic skills. It was also her springboard to the associated radio station Radio Teheran where, at the age of twenty, she was already making her living as a respected editor. She edited the daily programme Good Morning, Children, in which among other things she presented a few texts and occasionally staged role-plays. But at some point it was no longer possible for her to stay in her homeland.
Her arrival in Hamburg in 1999 was difficult at the start, which may have had something to do with the fact that she still couldn't see it as her future home. She imagined she would stay for two or three months and then return to Teheran, but it slowly became clear to her that it wouldn't be possible. She went along with the idea that nothing she had done in Iran counted for anything in Germany. She had been robbed of her homeland and language and thereby her most important form of expression and her work. "I was an author and journalist," she says. "I could choose offers, decide which ones to take and which ones to turn down." In Germany, she initially needed time for herself. She began writing again, in German, two years after arriving. In the story Öl und Essig (Oil and Vinegar) that Ayeda narrates in a firm voice standing up, the way she presents all the evening's other poems and stories, she interweaves her experiences from her arrival years with memories of her family. The venue is a guesthouse in Hamburg:
The corridor with closed bedroom doors has a dark, cellar-like breath that embraces me the moment it swallows me up through its door and into its massive fish belly where I discover the missing pieces of my life. My life, including my father with his empty, wet packets of cigarettes; our courtyard that smells of freshly washed bed linen; our cellar that has become a refuge since the start of the war.
Every day, I dive under dark moss and flow into this corridor. Every day, I envy the cauliflower pickled in vinegar, and the aubergines that defy the sands of time while the flowers on our bed linen fade, and more spots appear on grandmother's skin. Every day, I flow from room to room and knock. My heart beats. I imagine I'm disturbing the guests with every beat. My grandmother always said to wake sleeping people gently, not suddenly, as the soul doesn't stay in a sleeping body. It takes a while until it returns. I think about the innumerable souls that have drained away: in tears; in sweat; in bloody, oily streams. In the smoking-floor guests, I see transient passengers seeking refuge from the cold and danger in the squeaky beds. They have no family in this big city. Like me. I sneak up to the closed doors like a sponge and knock as quietly as possible. Many don't answer. They left a long time ago with their luggage, most of it consisting of discount-shop carrier bags: some of them environmentally friendly, some of them not.
Ayeda had many jobs in Germany after arriving here, including as a chambermaid in a guesthouse, as a waitress, and as an ironer. "Ironing was the best job," she says. "I enjoyed it." She can endure less lovely jobs – in part because she's been through the rigorous training of the youth magazine. "If you want to write about something then experience it!" her editors taught her, and Ayeda sees everything that happened to her in her first years in Germany as experience worth writing about. She writes about her work in the guesthouse, about ironing, and about people she meets.
After the Iranian presidential election in 2009, Ayeda wrote a condensed, six-page story. In Persimone (Persimmon), she describes her thoughts and feelings as she clicks through all the YouTube videos documenting the protests in Iran.
"Each one of you has made a film with your own mobile phone, without script or director, lighting or crane, producer or costume. She also writes about Neda, a girl who is shot before God's eyes. My father can no longer bleed. Neda can no longer bleed. But you still bleed. It pours inside me. A salty, burning flood. The image of a woman kissing a soldier's boots is the last image I see in the final seconds. I know the image. My grandmother also kissed the shoes of the men who regularly searched our house unannounced."
Weeks after writing the story, Ayeda hears about a literature competition in Fürth. She enters, comes second – among 500 entries – and will have her work published in an anthology (Ed.: Frohberger, Marco: Texte zum Antho? – Logisch! – Literaturpreis 2010. Axel Dielmann Verlag). The anthology is published in 2010. Ayeda is invited to Fürth to take part in a reading. She reads and feels like she has returned to her own occupation for the first time in the 11 years she has been in Germany.
She continues writing stories and poems, and working on her emerging German-language novel Sand und Zucker (Sand and Sugar), the opening chapter of which she reads at Buch in der Au. She also works as a literary translator, her works to date including Michael Ende's Wunschpunsch (The Night of Wishes) and Christiane Nöstlinger's Maikäfer flieg (Fly Away Home).
Ayeda also reads a poem in both Persian and German from the prominent children's book author Azra Jozdani.
Smell
When my sorrow spreads throughout the house
You sit in a corner
With all your small toys
Teddy bears, dolls and colourful marbles
And smell my sorrow
And inhale my sorrow and send it into your dear lungs
And say nothing
…
My sorrow is washed with the dishes
It sleeps on the pillows
It lies on the dust on the table
And dances on the musical notes
And you sit in a corner
With your small playthings
Red and pink balloons, and coloured pencils
…
My sorrow drips from wet fingertips
And from soapy gloves
And hides between the
Folded clothes
And bed linen that smells of bodies
…
And you smell
Like a small animal
That hides in a corner
With two shiny, black eyes
In a small wedding dress
Hugging a small, laughing doll
In the second part of the evening, Ayeda and Martin Pflanzer talk about their publishing project Hagebutte Verlag (Rosehip Publishing House).
Azra Jozdani's volume of poetry Zwischen Zwei Migränen (Between Two Migraines), in German and Persian, is expected to be one of their first publications. But before Ayeda and Martin say anymore, Martin Lickleder asks them about the name of the project.
For Ayeda, the rosehip, the fruit of the wild rose is a beautiful, powerful and resistant fruit. She admits to being "not very strong" herself, something she has said several times during the evening. She sometimes wishes she had the power of the rosehip. Roses also have a big role to play in Persian literature, and Ayeda, who comes from this culture, also sees herself as a fruit of this culture.
"Hagebutte is also simply a beautiful word," adds Martin, and then continues to talk about the origins of the publishing house. Their original idea was to publish a magazine for literary exchange.
The process: translating texts from all languages into German and vice versa.
The thinking behind it: to use literature as a voice that facilitates exchange on completely different levels than, say, journalism.
The implementation: highly complicated.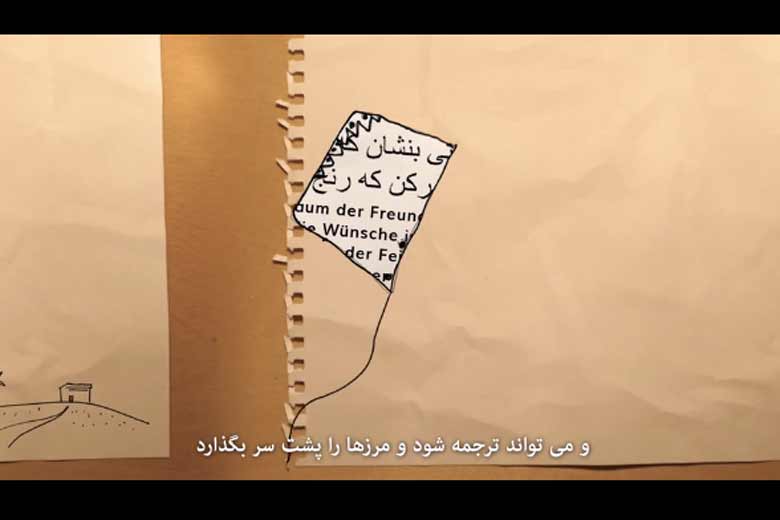 As a result, in the autumn of 2015, they then decided on a project that was no less ambitious, namely a publishing house that presents Persian-language literature in German and vice versa with a focus on children's and young person's literature. Under the umbrella of this publishing house, which would establish itself with its initial publications, there would be projects with and for children and young people from all language regions, above all for refugees, and thereby facilitate a lively literary exchange between cultures.
There are many reasons for launching the initiative. While the market for this literature exists, the appropriate publishing house for it doesn't, so Ayeda and Martin are founding one. There is already a website and the possibility to support its start-up via crowdfunding. Even when the air gets stickier and the discussion between Ayeda and Martin gets longer and longer – without a break – the audience remains focused on their presentations right to the end. One thing above all becomes clear:
With Ayeda Alavie, a woman of absolute conviction is throwing herself into the publishing business. She is an author, translator and illustrator who also sees her own writing and future work as a declaration of love to the German language – her eyes light up when she describes how wonderfully the German language "bends". She is a woman who tears into something and doesn't have to pretend to be strong. Instead, she admits her weaknesses to herself and others, above all her weakness for literature.