Meet your neighbours at Buch & Café Lentner in München
The eighth evening in the "We're doing it – meet your neighbours" series in Munich took place at the Buch & Café Lentner bookshop on January 26. The Syrian writer Fouad Yazji and the Munich-based translator and author Silke Kleemann talked about atheism in early Islam, the sources of inspiration for Yazij's novels, the revolution, love, and living and working in exile.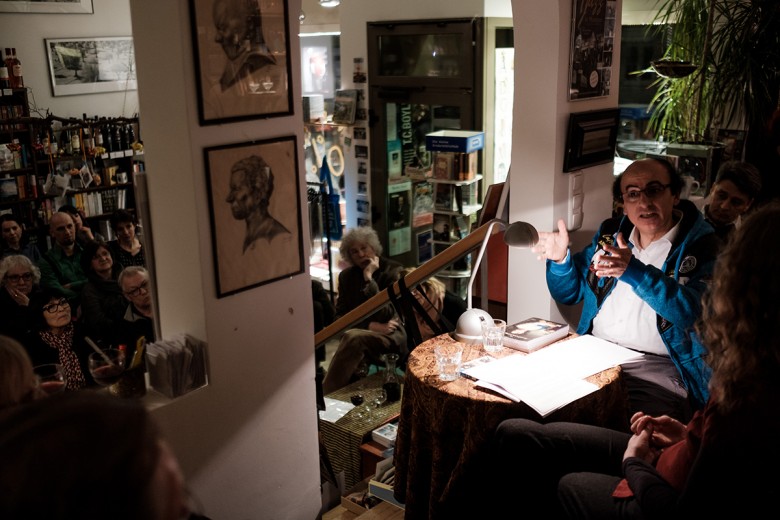 You can definitely talk about tough luck when you find out, just before the event starts, that the Arabic translator is unfortunately unable to attend. However, it isn't just the fact that Silke Kleemann and Fouad Yazji took this setback in their stride that made the evening special, as the eighth "We're doing it – meet your neighbours" event, which took place at Buch & Café Lentner in Haidhausen, was full to the brim. An article about the Syrian author appeared in the Süddeutsche Zeitung newspaper the day before and quite rightly aroused people's curiosity.
Fouad Yazji came to Munich a year ago. Asked what he finds special about Munich, he goes into raptures about how wonderful it is to leave danger behind and come to a country of peace and love, "a paradise", he says, with an old town that has the same impact on him as a large open-air museum. He also says that it's almost easier to write herein peace and freedom, among a population of big thinkers. One thing has disappointed him, however. Fouad has written a novel called Die blaue Wolga (The Blue Volga) about Nietzsche, whose work he has admired for years and who has been a major influence on him. He came to Germany thinking that Nietzsche would be the German prophet, that everyone would definitely love him as much as he did, so he was amazed when the most people knew about him was what they learned in school. Nietzsche was the first person to show Fouad that there is no God – a topic we got to in of the evening's themes.
Fouad's text Die Geschichte des Atheismus im frühen Islam (The History of Atheism in Early Islam) will appear in the PEN anthology Zuflucht in Deutschland (Refuge in Germany) early this year. He read this text in Arabic in sections before Silke Kleemann read the same sections in German. We learned why this theme is so current: these kinds of texts caused Fouad difficulties in today's Syria where it is forbidden to express doubts about the existence of God in public. However, it was very different in the heyday of Arabic Enlightenment, between 800-1000 BC, when the idea was expressed that reason isn't the same as the word of the prophets – an idea that is wholly taboo today and a state of affairs for which Fouad longs. He hasn't given up hope that this kind of open atmosphere will once again prevail in Syria, even if the prospect of it is looking very bleak at the moment.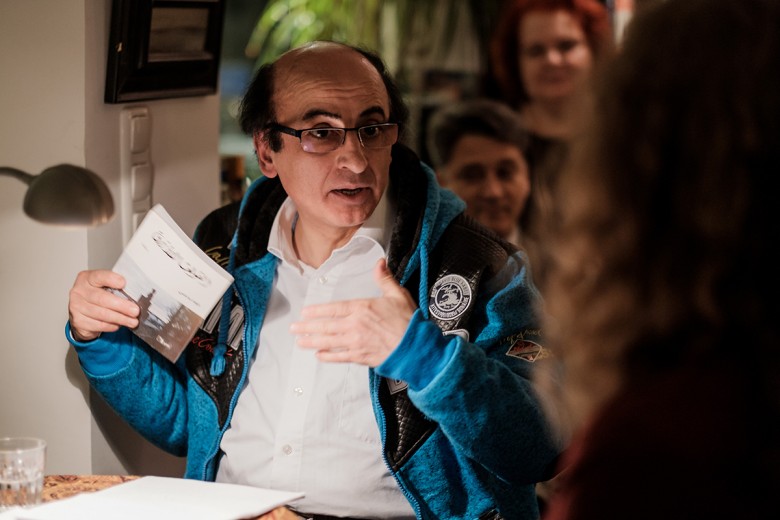 Fouad, who became an atheist at the age of 20, intends his text to point out the fact that atheism didn't emerge in the west, as is widely believed, but also has ancient roots in the Arabic-speaking world. He says that the prevailing opinion in Europe today is that Muslims read a lot in the Koran but that this isn't actually the case, as there are several Muslim countries where no Arabic is spoken at all. Whoever reads the Koran, and is educated, automatically doubts all the ghost stories. In his opinion, neither the Koran nor one of the other major religious texts is proof of God's existence.
Another key influence on his writing is the Persian poet Rumi (1207-1273). Love is Fouad's most important theme and Rumi's works reminded him of his first love. He says that a wholly different notion of love prevails in Syria, more spiritual than sexual. There, the look of love – just a single reciprocated look – is sufficient for weeks of happiness. By contrast, his first impression in Europe, supported by films and literature, is that women are adored as saints during the day and taken to bed in the evening. When he studied in Russia as a 20-year-old, he couldn't love the women there, he says, as they didn't correspond to his preconceptions of beauty and were so independent that it wasn't possible for him to adore them.
The book is currently writing is also about love – about revolution and love in times of Islamist terror. What and how he narrates takes the audience's breath away. At the age of 16, he was in love with a girl with whom he lost contact at some point. Many years later, he was forced to hide at his sister's place in the heavily contested Homs Province; there're no more food, and even if there were, there's no with which to buy it; there's no heating and only sporadic electricity. He discovers this girl again by chance, in a news programme when the electricity briefly puts a picture on the television screen. She has since become an opposition politician. He manages to make contact with her and she is ultimately the one who helps him escape. All of this is processed in his new novel. None of his four novels have appeared in German yet, unfortunately – maybe this one will be the first to be translated in its entirety.
He doubts that he will ever return to Syria again. He says his country is ruined; everything that has linked him personally to it has been destroyed. He is more desirous of peace, democracy and human rights – the exact same values that constituted the original idea of the revolution.
It was particularly beautiful to see the many requests to speak when Silke Kleemann opened the floor to questions. An agnostic and major Fouad fan asked about a way for writers to make a contribution to the movement towards democracy. Fouad believes that hope should never die, even if the current situation is hopeless. He says that the route to a well-balanced civilisation is always a process in which everyone can only play a part by fulfilling his or her obligations, and unfortunately history shows that such a process can easily take a few hundred years to complete.
Even after the official event, one-to-one discussions about the current situation in Syria, about literature and about possible solutions were discussed, in Arabic, English and German.