Meet your neighbours at BUCH IN DER AU
On what felt like the hottest night of the year so far, Katja Huber introduced the three-man Syrian band جِسْر jisr (The Bridge) – even lovelier was the fact that every seat in the Buch in der Au bookshop was taken, just like at every Munich beer garden probably. And guests were unanimous – it was worth it!
Bookseller Elisabeth Reisbeck greeted all the long-standing and new residents of Munich who had come together for the evening and were sitting with ice-cold drinks in their hands.
The third WIR MACHEN DAS-Begegnungsort Buchhandlung (WE'RE DOING IT Venue: Bookshop) evening in Munich was heavily influenced by Arabic music (percussion and vocals – Mohcine Ramadan; viola – Ehab Abou Fakhar; Abathar Kmash – oud). The range of pieces included compositions from the 11th century via the Wagnerian era up to today, as well as music from Syria, Egypt, Turkey, Tunisia, Algeria, Morocco and Andalusia, all of which made for an impressive and highly varied mix. Most of the pieces had no titles but were named after the composer and the scale in which they were played. The trio hasn't composed its own music yet, but it has only been together for four months, Ehab and Abathar only arriving in Germany in January, so it's really rather astonishing how many concerts the band has already given in the Munich area since then.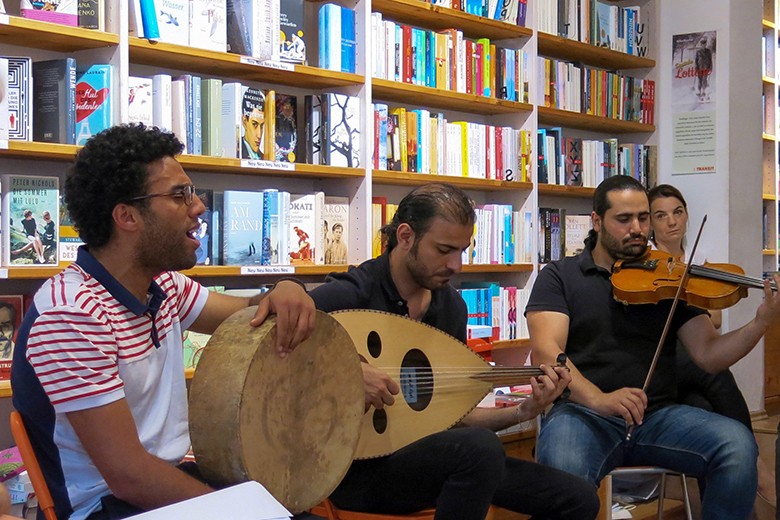 As luck would have it, Mohcine Ramadan, who graduated in German as a Foreign Language from LMU Munich, and who has already been living in Munich for several years now, was a wonderful translator. The other two members of the trio are professional musicians from Damascus, and in their city of birth, As-Suwayda, Abathar ran a music school with 70 students. He was obviously unable to continue his usual work at the school after taking flight, but from Munich he is still running a small girls' orchestra there with 11 students: he sends them notes, they record the piece and he gives them feedback, via Skype for example. They're currently preparing for a concert at the end of July.
Ehab's und Abathar's CV's are impressive (there's mention of membership of the Syrian Symphony Orchestra, lecture work at the Higher Institute of Music in Damascus and participation in international workshops), which they modestly put down to the fact that in As-Suwayda there's an oud in every household and several musicians in every family.
When asked how it was possible for them to establish themselves as musicians in Munich so quickly, and to play so many concerts in such a short space of time, Mohcine first jokes that you have to have to take the Balkan route to spark interest. He then adds, rather more seriously, that music simply brings people together, as you don't need language to make contact, for example with the well-known oud player Roman Bunka with whom they've already performend in various formations. It also became clear in the talk with Katja Huber that Mohcine is well connected in Munich's cultural life as both a lecturer and musician, which means he can turn to contacts he has been nurturing for several years for his still very young band The Bridge.
Their music is carried by rhythms that determine whether audiences dance, which is often the case, or listen, mostly to lyrics rich in metaphors about homeland and love.
Professional life in Munich isn't quite so simple, however. Even as professional musicians with degrees under their belts, Abathar and Ehab have had to start again, applying to the University of Music and auditioning there, as Germany has different musical focuses. There's no course for the oud, so Abathar has taken up jazz guitar.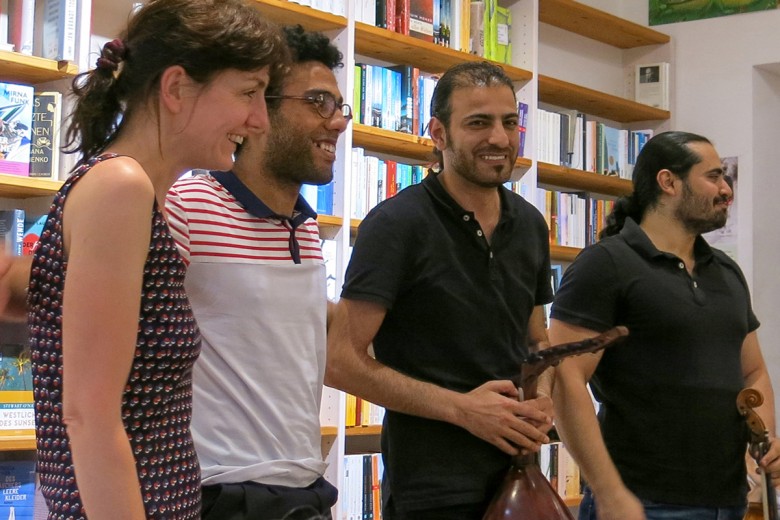 At the end of a well-rounded evening, an interested audience asked if the trio hadn't yet released a CD, which unfortunately it hasn't yet, for financial reasons. One suggestion from the audience was that it was a classic case for crowdfunding, an idea Mohcine found so good that he immediately forwarded it on to the WIR MACHEN DAS initiative as a possible entry on the "to do" list. Finally, the next concert dates were announced, for example on July 8 at Café Giesing, on 15 July at Ya Wali in Haidhausen and on 23 July at EineWeltHaus in Schwanthalerstrasse.