Meet your neighbours at Kunst- und Textwerk
In the bookshop Kunst- und Textwerk in Munich's Westend, the playwright Amahl Khouri gave an insight into her documentary piece She He Me and afterwards led a stimulating discussion with Lena Gorelik and the public about transgender issues in Arabic countries, people's own prejudices and knowledge gaps, and the limits to their own tolerance.
Amahl Khouri sits on the floor, fingertips together, and listens closely. She is following the first performance of the German version of her play She He Me. There are some 25 listeners around her seated on wooden chairs at the Kunst- und Textwerk bookshop in Munich's Westend. They see scenes from a play that has already been shown in English in Abu Dhabi, New York and Augsburg, and which will premiere at the Münchner Kammerspiele in December – in a living room atmosphere.
There's a small stage in front of the sofa where Khouri's Syrian friend Yara Seifan, the Munich-based author Sandra Hoffmann and Linda Benedikt are throwing out questions and threats for people to hear. They're reading the story of the transgender activist Randa from Algeria who Khouri has been following and interviewing for many years now. The piece talks about the lives of three people from the LGBT movement in the Middle East: when one of the characters takes centre stage, the other two performers help to tell the story in supporting roles. The scenes begin with the invasive curiosity of a transgender woman in the western world, and they take us back in time to when an Algerian man with a wife and child became a transgender activist and was ultimately driven out of the country by her own family – out of fear of reprisals, and out of shame and hate.
"We have stories but no plays," was Khouri's key finding that led her to make documentary theatre, and to stage the experiences of other LGBT people from her network. She has only been in Munich for four months, is already well connected on the theatre scene and is heavily involved in der staging of her piece for the Kammerspiele. She moves to the sofa after the reading, and in the discussion with Lena Gorelik and the public she answers every single question with great presence. She comes across as authentic and committed, and engages everyone present with her personality. Khouri has a German passport, thanks to her German mother, which means that, according to the residency guidelines, she isn't a refugee. "I did seek refuge, however," says Khouri. She left Lebanon because she didn't want to expose her pieces to censorship, and although not every opportunity for her to develop artistically was closed to her, it was almost impossible to put her themes on stage. In Germany, she wants to learn her mother's language, learn everything about the incredibly diverse theatre work, and contribute to it as much as possible.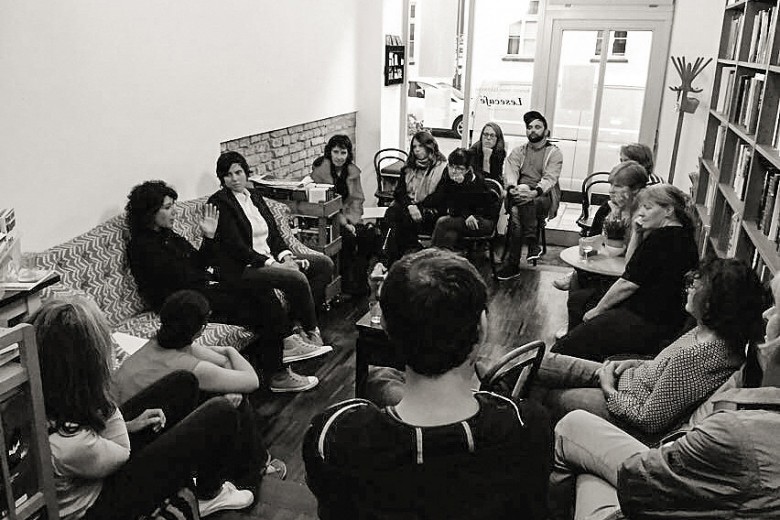 "It was a trip to a different world," summed up one guest. The fact that this world is alien to us, and not just because it's set in the Middle East, also became clear to Gorelik while she was translating the piece. German and Arabic simply don't have equivalents for many of the words in the original English text. Here as well as there, homosexual and transgender people have to locate themselves. And maybe the subject matter is also the reason why, in comparison to previous events, only around one-half of listeners found their way to the bookshop.
Those who are there stay once the official section is over. They talk with Khouri and her Syrian friend, and among each other: about their own prejudices, knowledge gaps and the limits of their own tolerance. The principle of meeting neighbours, and of the event having an impact beyond the evening itself, is born. All that remains is to wish Khouri great success on her artistic path, and to wait eagerly for the Kammerspiele staging in December.