Meet Your Neighbours in Munich's Sendlinger Buchhandlung
On 26 October, Denijen Pauljević spoke to Shadi Mallouk and Soro Giovani Baba in the Munich bookshop Sendlinger Buchhandlung. The three of them talked about sport and motivation, the meaning of success, their previous lives, arrival and communication in the new surroundings. It was an evening that told us a lot about how sport – according to Shadi Malouk – is culture.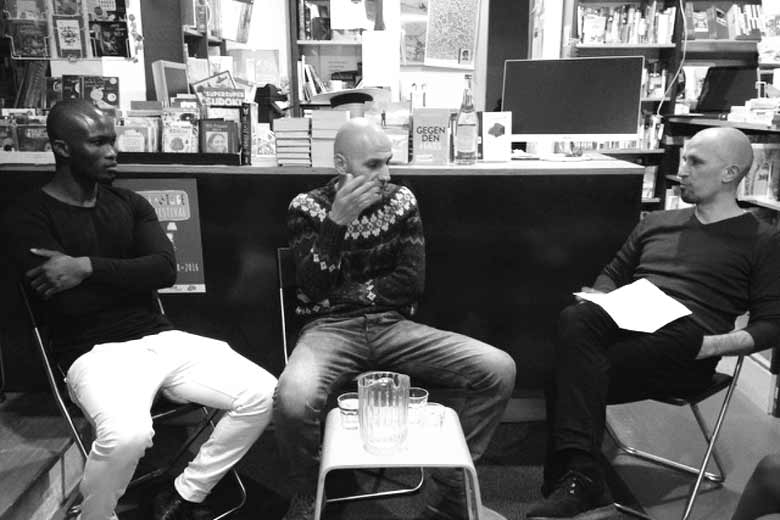 The former Syrian national basketball player Shadi Malouk came to Munich three years ago and now trains the youth and women's teams at BC Hellenen. Soro Giovani Baba is nineteen years old and comes from Cote d'Ivoire, leaving unaccompanied during the war at the age of thirteen. He arrived in Germany in 2014, graduated from school in 2016 and recently began an apprenticeship in construction. His dream was to become a professional footballer, but a severe knee injury means that's sadly not possible.
'Sport is language,' Shadi says in Suli Kurban's short documentary, which the writer, dramaturge and musician Denijen Pauljević showed at the beginning of the event. The film shows Shadi as a basketball trainer. He repeated the same words at least once during the evening, and it was clear how seriously he means it and how he lives by that motto, when he said he was at home in sport and it was easy to communicate with people in sport because they have a shared language. Having a shared goal makes it easy, he added. And later, when he said he didn't have the feeling the ball was made of plastic; his feeling towards the ball was love. His motivation to speak German comes from his current profession as a basketball trainer, he told us; he can tell his German is still not good enough to teach in the language because he speaks too slowly for sport – everything moves so quickly in sport so his comments have to come quickly too. At the moment, he said, he speaks a mix of German and English during training sessions. He spoke that same mix during the event, incidentally, and it sounded great.
Giovani Baba also grew up in the world of sport, attending a sports school from a young age, where students had normal lessons but also trained their football skills every day. His father sent him there. After escaping from Cote d'Ivoire, he played in the Libyan junior national team, but after a conflict that he didn't go into, he didn't want to stay there.
By the time he got to Germany his knee was irreparably injured. That's bad, he told us, because chasing the ball on the pitch still makes him very happy. He's now training in road construction, which he enjoys because he gets to work in the open air.
Both Shadi and Giovani thought things would be terrible here in Germany. And they're both experiencing the opposite – it's good here, they said. The two men are both staunch supporters of life without violence and drugs. Shadi: 'If someone has a problem with me, I'm friendly – I've learned to communicate so that everything's fine.' Giovani: 'If someone tries to fight with me I just walk away. I saw so many things in my country, I just want to be left in peace.'
All in all, the evening was remarkably calm. Denijen led us through it in such a laid-back way that one left with the feeling of having met three wonderful men of great humility and confidence, with not the slightest machismo.
The best quote from Giovani, asked how he feels when he gets stared at because of his skin colour: 'If people look at me I think they're looking because I'm so well dressed or so good-looking.'
And Shadi responded to Denjien's question about what he wants to be in life: 'I lost everything four years ago. Now I'm starting over. I don't know what will become of me, but I feel I have good opportunities. I'm alive now. And I'd be ashamed if I said I needed something, because there are plenty of people who need more.'