One Sound – Two Crimes
January 2016, he was awaken in Brussels by the same sounds.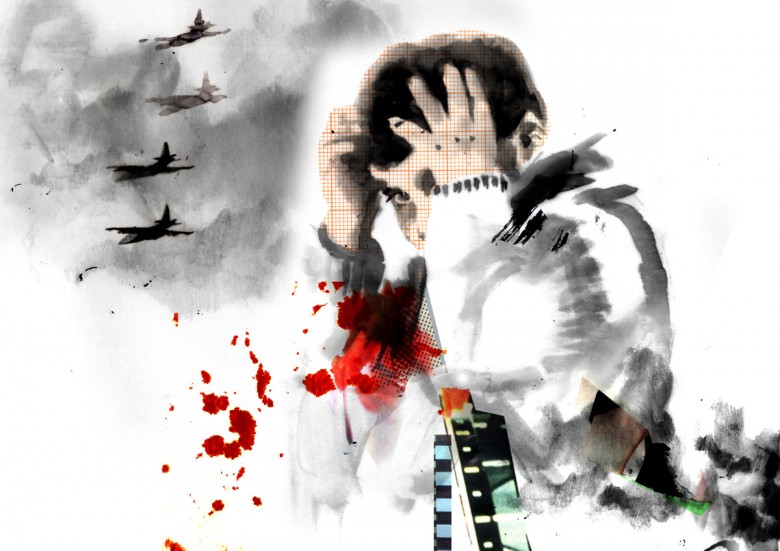 Damascus 2012, hours have passed since the last sound of death. The neighbourhood was empty from the children's voices, because the departed ones had made their last farewell with a strong pupil. The red orbits did not cease to demonstrate the fear of silence. The chamber could not be unlocked, because its two sides had been exposed to the fires of war. Bullets of pain in the mother's heart were inexplicable in a moment of trepidation. The oath of fatherhood had long been betrayed for the sake of some bloody kings in the Gulf. The 15-year-old boy heard the voices of danger again. The criminals were by the wall, anticipating the attendance of the dignified ones. They had long been looking for innocence to wash their filth with. The sounds came again to the two auricles of childhood. This time, at the dusk, they signalled the death of others. It was a fluttering malicious bird whose malignancy assassinated the center of the deceased city. Nevermore shall he be rewarded the blood of innocent civilians. The vulnerable was a tribute, sacrificing her dignity. Until the morning, this dignity was about to vanish in chaos of dirty desires.
They came to an end, before the sounds of a victorious neighbourhood were heard in anxiety. The malicious bird was murdered by the wounded personnel, and the triumphant eyes and hands were dismantled from their nobleness. The criminals were not satisfied by the souls of their children, and their mouths wanted to swallow the lands of a fragile state. The sounds came again to generate a Godless psyche in the boy. They erased the cliffs of childhood, and pushed the boy into adulthood. A step or two were taken, and the female scream was triggered. Heads were lowered and the children heard the last breath of their raped mother. In the ears of the 15-year-old boy, the sounds of crime shall never fade.
January 2016, he was awaken in Brussels by the same sounds. Crowds of spirits were humble to take the train to experience an hour of a deadly show. His eyes witnessed, after three years of severity, the projection of another crime. The Sounds attended, and tears fell on the sidewalks of Anderlecht. The boy, imprisoned in memories,  realised the scream is his loyal friend and his chamber will be locked forever.