The Picture of a Lost Generation
In Mostar, this picture of a paralyzed generation fell inside my box.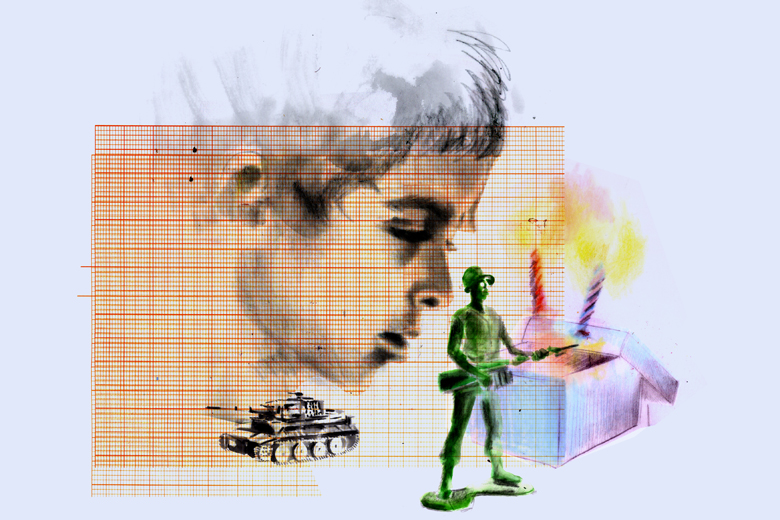 Mostar, February 2016, one month prior to the fifth anniversary of the Syrian civil war, I opened a box in which I collect my memories of displacement, to find an accumulation of tragedies. By the time a dark tear fell on the essence of youth in this box, I was picturing my cousin, Adam, saying: "Summon me to your homeland, your memories and history; a history that I lost because of the deeds of your generation". On his fifth birthday, Adam's future was blurry. He was unconscious and unaware of the traumas, which his family had suffered before they moved to Turkey.
His birthday present was a soldier, and his sister's a tank. You could never tell whether their parents' tears fell because of the loss of their future or because of the petrified present. Adam's loss stood in front of the chamber door, reminding a whole generation of his father's failure to initiate the revolution, which could have saved Adam's life. They all stood hypnotised by the shame of this unbroken revolution. They all became speechless when the pale faces of children shouted despite the cut throats and the pulled nails.
Adam's torn and poisonous tongue symbolised the victory of our Ottoman ancient enemy. His grandmother, being crippled, repeated the mundane moan with a cycle of death around her neck. His father is nothing but another murderer of the innocence of childhood. The chaos and echoes of war occupied Adam's mind to make him a lifeless, ghastly and grotesque statue. Trapped in a cycle of death, his eyes stared at the circle that his grandmother made.
With his torn knuckles and napping eyes, the grandfather befriended the wall of destiny, waiting for his spirit to depart to the criminal God he believed in. His eyes were fixed on another hole, which symbolised the loss of Syrian lives. The mother's scarf suffocated the voices of three generations, imprisoned the daughter and scratched bloody frontiers on the father's mouth.
In Mostar, I pictured Adam and me paralyzed in these memories. His family's monotony woke him up to find a victim of a repeated crime. He found me stuck in my teenage years, the time I experienced the war. Where the spirits of the departed ones flew around the brazen chandelier, Adam tapped on my dead chest to grasp his lost childhood. But the adults responded with a shameless cry of a newborn corpse. Their filthy desires were encapsulated in a refugee camp, and Adam surrendered in front of the tempest of his memories. In Mostar, this picture of a paralyzed generation fell inside my box.