Because places entice you to get used to them
Meet your neighbours as part of a 'cultural breakfast' event at the municipal library in Munich-Pasing. On 14 May, Fridolin Schley met the Syrian poet and journalist Yamen Hussein for an intercultural dialogue with a Syrian focus. They read old and new poems and talked about the continuous process of arriving in a new country.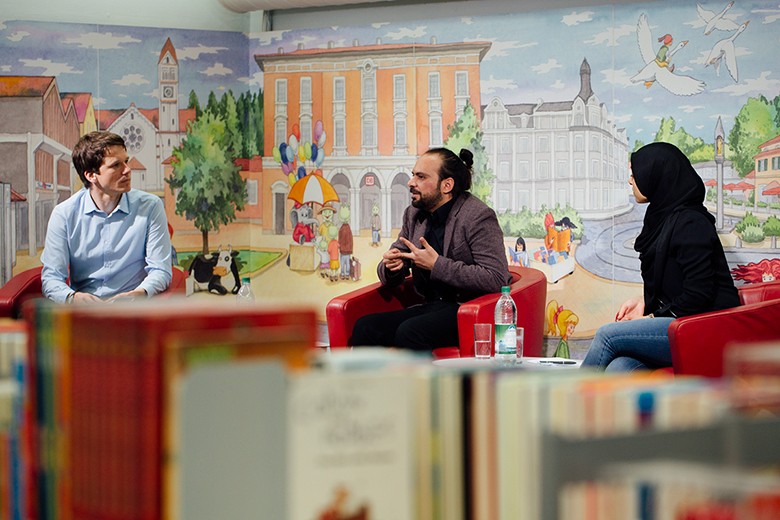 Yamen Hussein has already been a Meet your neighbours guest, in September 2016 (read about it here). At the 'cultural breakfast' organised by the Cultural Forum Munich-West and the Munich-Pasing municipal library, he and Fridolin Schley sit together for the second time on stage, again supported by Marwa Amara as interpreter. The first thing that becomes apparent is how much Yamen's German has improved in the past six months – it is only when faced with complicated questions that he turns to Marwa for language support, everything else he answers this time himself, and even if he dismisses it modestly, Fridolin Schley isn't exaggerating when he describes Yamen' German as "colossal" and "brilliant". It is a pleasure to listen to him and instantly stimulating, a large wave of enthusiasm from the audience washing straight back to him. Despite the temporary closure of the city rail line, around 60-70 people have found their way to the foyer of the Munich-Pasing municipal library, which this sunny Sunday morning is cosily furnished with beer-garden benches.
The discussion gets straight to point: Yamen confirms that his life in Germany continues to be secure, thankfully, and that the Writers in Exile scholarship from German PEN, which runs until December, allows him lots of time to write. But the war in Syria still casts a shadow over him, bad news continues to distract him, his concentration in German class, for example, is impaired, but above all he worries about his family in Syria. If Yamen is too openly critical, here in his safe, new living environment, his parents or brother, who are still in his home city of Homs, may be threatened by the secret service or Islamic militants. He does it anyway, and it's clear how difficult it is to enjoy one's own freedom. It's a constant balancing act: life between two worlds, in the simultaneity of the realities of everyday life.
Seventeen Minutes
The remaining time
till the underground comes,
taking me and a drunkard
to my station,
is enough for a rush of love,
is enough
to carry out a massacre,
for a Scud missile to reach Raqqa
and destroy an entire neighbourhood,
for a cat to exhale its soul
under the wheels of a lorry,
for an executioner
to rinse off the traces of the brain
he has smashed with an axe at lunchtime.
Enough time
for another
glass of beer
that takes you over the threshold
into pleasant dizziness,
into intoxication,
so that you dance like a lunatic.
The changed sense of time and repeated waiting belong to the experience of escape. Yamen writes and talks about it regularly, that at the start you can't imagine anything worse than having to leave, then comes the waiting, in his case in Turkey, not knowing whether you'll make it to safety or not, missing friends and family, loved ones, and even after arriving in safety life is not as it was before. You notice it at all levels. Friends are missing, that casual togetherness (Yamen says Germans are always so rigid at work and in everyday life), being able to meet others spontaneously, even in the language everything requires adjustment and effort. It's a settling-in that nonetheless happens, that succeeds – a favourite line of mine about this from his poem Restlessness is: "Because places entice you to get used to them." Or as Yamen says with a despairing grimace, "Despite the weather." In the discussion about exile, I was particularly touched by Yamen's statement that, if he were able to return to Syria, he would still wish to be able to travel to Germany again, this time voluntarily.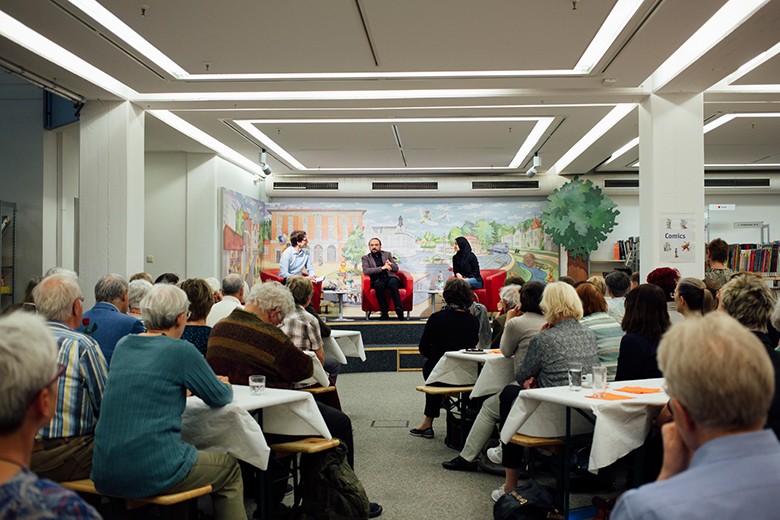 The situation in Syria is very difficult to understand from the outside (and as Yamen says, even for Syrians themselves). There are too many parties mixed up in it and Yamen sees Putin's and Trump's interventions with the same sense of disillusionment. However disastrous political persecution in the country is, Yamen says that after the revolution, under the Assad regime, a person's private life also became a reason for persecution. He says he was once almost arrested merely because he'd kissed his girlfriend in public on his university campus. In these difficult times, for him, writing increasingly became an opportunity to process things.
The question of how to localise oneself in society also arises in the new centre of his life. When Fridolin asks Yamen whether it sometimes bothers him to be invited to readings and talks about escape, his answer is clear: he doesn't like to be lumped together with others, he didn't like in Syria either. At the same time, he says that it's obvious he had to flee his country and is therefore listed under exile literature (at least for the moment). But in general he hopes that his work will be judged on its literary quality, not only as a statement on escape.
Tomorrow

Tomorrow, you'll be one year older
and the distance between us
a ferocious beast.
Tomorrow, you're milk-white teeth will grow a bit more,
those first ones that have not yet fallen out.
Your long nose that I love so much, and you hate,
takes a deep breath,
falters.
Your dark skin will be even more beautiful,
I tell you that,
and a field of salt appears in your armpits.
Wow! The body sweats if the heart gets excited.
The lock of hair on your forehead
will also be a year older
and long like the hair on a corncob.
**
You and I
propose a bitter toast – to life,
every one of us in one 'country' … No!
The whole country is you
and exile a hard nut,
if you crack it with your teeth,
it breaks in two.
**
It is our lot to throw a stocking into the sky
and wait until the spirit of festivity
brings us presents and fulfils our wishes.
Tomorrow, I will throw a stocking into the sky,
wait your the stars
and catch them
star by star.
Clear words also about AfD: he says he doesn't feel threatened by them personally, quite rightly saying that, "AfD is a danger to society as a whole, not only to refugees." He says Europe still has a role model function in the world and that here we have to deal with value questions responsibly. Political radicalisation in Europe and strengthened nationalism would only offer extremists more breeding grounds, just as in Islamic countries, he says, adding that you have to be aware of the fact that stigmatisation can always target a new group: "Before it was Jews, now it's Muslims, in the future it may be homosexuals or women." Yamen sees Germany as less threatened than other countries in Europe, as "German history is good prevention."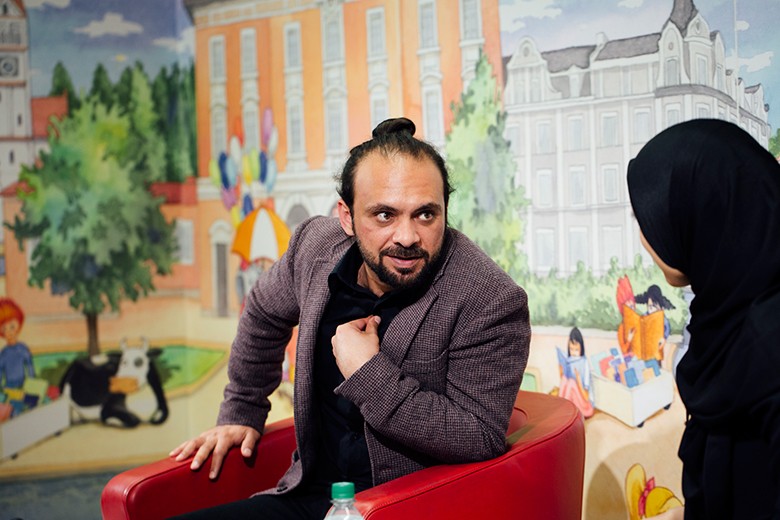 Yamen first reads his poems in Arabic before Fridolin reads out the translations. A woman in the audience is especially grateful for the fact that the reading and particularly Yamen's body language while reading have for her taken the texts to another level. She asks about humour in his texts, a certain light-heartedness despite their heavy themes. We learn from Yamen that Homs is well known for its irony and humour, and that locals have a reputation for being able to take life lightly. There is even an historical antecedent for it that is celebrated with Madness Day, which dates back to a war from 1,400 years ago that is said to have been overcome with a humorous tale.
At the moment, Yamen wishes above all else that his mother can come and visit him for a few weeks. They talk to each other every other day if possible and his mother is scared of not seeing him again before she dies. The audience can well understand the feelings described in the poem Skype session with my mother (see the article on the previous event). A collective sigh makes it way through the rows this Sunday: it's Mother's Day.
For Yamen himself, a publisher's scholarship for a work in Arabic offers professional prospects. At the same time, he would like to improve his German and is also getting ready to look for a bread-and-butter job alongside his writing once the PEN scholarship has ended. He would like to stay in Munich. Offers are welcome and Yamen's words suggest that he'd be very happy to have more discussion and dialogue with German people. This works exceptionally well in the library: after the event, Yamen spends a long time talking with interested guests (with delicious snacks provided by a Lebanese caterer).