Refugee Voice: People can be so much more than soldiers
Music is my way of proving to the world that I'm not just a refugee.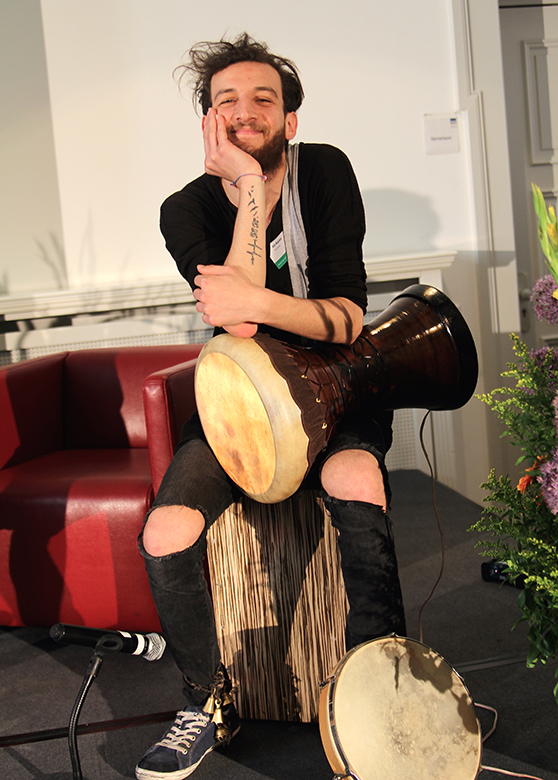 "When I went to Turkey, I found a job as a physiotherapist in a spa. At night, though, I was busking in the streets of Istanbul. I found some Kurdish people playing and they invited me to join. It was fun – people were dancing and we could earn a bit of money. I played with musicians from France, Syria, Canada, Germany, Ireland. Every time I play with different people I build new connections. After I arrived to Germany, people started caring about the music I played and little by little I became part of three bands and two orchestras. For the last half a year we've had concerts every week. On Saturday we will play at the Philharmonie. There are enough stages to play on but I still go to the streets. There I'm closer to the people, I see them move and get connected. Lovers stop to listen to the music, the guy kisses the girl and they take a photo. You feel the beautiful energy.
In the beginning, I had only a rough idea about the notes, I mostly followed my feeling for music. I learned the notes only last month when I stayed in hospital for two weeks. I can't just put a paper in front of me and play. This seems so impersonal. Indigenous people didn't use notes and they make some of the most amazing music. I don't have a diploma but I can make 200 people dance non-stop for few straight hours. For me this is pure joy. Music is my way of proving to the world that I'm not just a refugee. I'm not a homeless person who needs clothes and food. I don't need donations. I make my own money. My ambition is to show young people that there is always an alternative. If you have the passion and determination you can accomplish anything.
Next month we start a German-Arabic library in Berlin and once a week there will be music workshops for kids. I'm 26 and I feel that I'm too old. Kids hold the key for a better future, I have all my hopes with them. They are so pure and capable of changing everything. I never try to "teach" kids, I can only sow the seed. Time will show if something will grow out of it or not. If two kids out of 100 end up doing something with music this is already a success. My father never "educated" me. He never imposed things on me. When I was 15 he gave me my first cigarette. I told him that even if he doesn't I will smoke. He decided that it was better if he gave it to me. Nobody can stand in the way of a kid who has made up his mind, for better or worse.
Music makes sense to me. Borders don't make sense. Through music you can connect Shia and Sunni, black and white, Christian and Muslim. This wouldn't happen in other circumstances. The world of tunes is safe, you are there to be happy, to enjoy and dance. You don't dance if you are angry and hateful. Nobody is using music to promote hate. I don't care about politics. I care about my fiancé, my parents and my friends. I don't want to be in a place where I should constantly prove something by killing people. This is not life. People can be so much more than soldiers."