The Positive Result Experience
I have never thought that I would have such a deep and fateful thinking on a toilet seat! Do I want this pregnancy?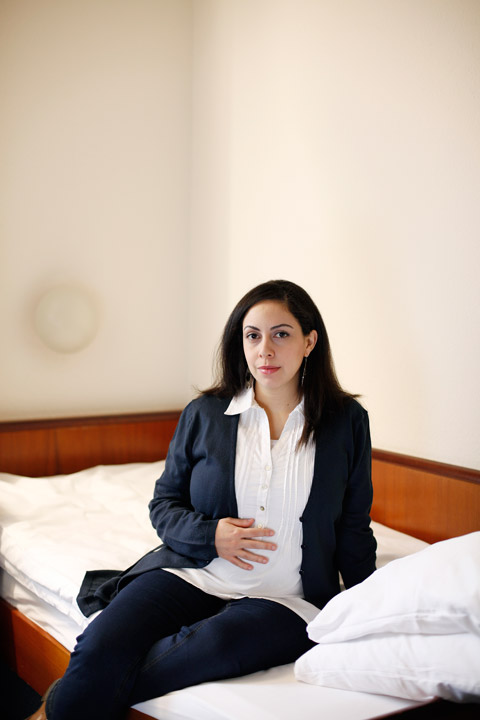 One, two, seven, it's the seventh time I am having the pregnancy test, and yes, it's positive! "No matter how many times you'll try, it's going to be positive, I thought we wanted this! Don't we?" Said my husband on the other side of the bathroom door.
I have never thought that I would have such a deep and fateful thinking on a toilet seat! Do I want this pregnancy?
My first visit to the gynecologist after I got the result was a nightmare! And the one after, every visit was a nightmare, and my kind Berliner gynecologist was so surprised by my reaction every time she says "your pregnancy is going well."
How can I explain to a gynecologist in Berlin that when I was in Damascus, every time I went to protest, the security police threw gases we never knew what they were. The gases don't only make you cry your eyes out, cough so hard that you feel your lungs are being torn.; but also make your skin burn and tighten until you feel it's going to be ripped.
Our small apartment in Damascus was ten minutes away from one of the neighborhoods attacked by Al-Assad's Army's chemical weapons. I couldn't breathe well back then, but I don't know if it was only the news or I was affected.
I have inhaled the burn of smokes and smells of all of the weapons I know no names for, and don't want to. But now after two years in a very far city from where I have come, I ask myself, what if all of that will affect the baby?
A lot of Syrians right now think that they shouldn't bring children to this world anymore. As an invitation to sterility, a friend says that any couple who gives birth to a Syrian child must be prosecuted on charges of attempted murder!
I have to be honest that one year before, I wasn't so far from those thoughts! But now I am holding an ultrasound picture of my baby in my hand.
And here pops the question again: Do I want to do this?
What kind of identity documents will my child have? She is definitely not going to be considered a German, and she won't have any Syrian papers as well.
Where is her homeland? Is it Germany or Syria?
Is my baby going to be labeled in school and among her friends as a refugee?
Do I want her to go through this difficult identity conflict?
So many questions to be answered on a toilet seat!
Maybe after all of those thoughts and questions, no one would think I may consider keeping this baby, but I will.
Maybe my baby will succeed where we have failed, I will tell her the story of the brave Syrians who loved life so much they actually died for it, and I might not see that day but she will, when the Syrians will finally have the homeland they dreamed of.