Through Their Voices: The Survivor's Voice
Through Their Voices is a group of ten serial interviews with ten Syrian activists who are still living in the besieged city of Moaddamiyeh. The Survivor's Voice belongs to Samer Abu Amer, an activist and volunteer, who managed to escape the regime several times and works untiring for a better future.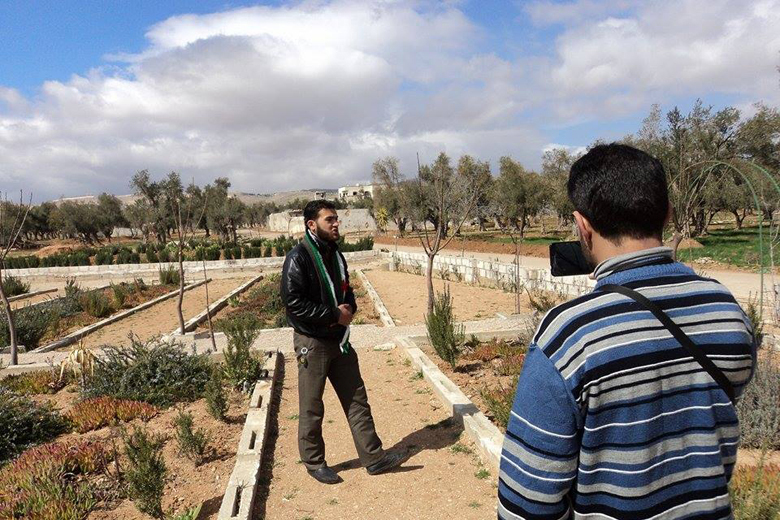 Moaddamiyeh has been an early hotspot for anti-Assad demonstrations and the following government oppression. The town has endured the siege of the Assad regime since the end of 2012, and it is one of towns hit by chemical weapons in August 2013. Despite all the violence these activists believe in the principle of peaceful. And after five years of Syrian revolution their stories and experiences must be heard, their words reflect their struggles and hopes. 10 stories will be told through their voices.
Samer Abu Amer is a Syrian activist currently living in Moaddamiyeh, Syria. In 2001, Samer lost his brother Maher. While doing his military services, Samer's brother was killed with a shot in the head under mysterious circumstances.
"My brother was full of life and they brought him back with a shot in the head. We didn't have even the right to ask how or why and my family was threatened by the Assad's forces at that time. That was familiar in Syria, and many families lost their sons while they were supposed to be doing their military service to their home country. That wasn't easy at all for us. Oppression is the worst thing ever, we didn't have the right even to talk about it."
Later on, things weren't easy for Samer, either. When he was in the high school, he was bullied by school fellows who were the sons of important officers in the Syrian intelligence. One day, the boys grabbed him, shackled him, and put him on the ground by the wheels of their car. They threatened him to run him over, while laughing at him.
"Once again my family wasn't able to do anything about that and instead of getting help, I got kicked out of that school when I tried to complain about that to the administration." 
Samer studied mechanical engineering and graduated at the beginning of the Syrian revolution. He participated in the first demonstration was held in Moaddamiyeh on March 21st. The situation was very precarious: Samer had just completed a sinusitis surgery, and was reading up on the news in Moaddamiyeh on Facebook while he was in the hospital. When he saw what his friends were planning to demonstrate, he was really upset and eager to go back and support them.
"I left the hospital earlier than I was supposed to and I went in the same day I went home to a demonstration. Assad's forces came, and they threw gas bombs. I was in a terrible condition when they threw the gas because my nose surgery was totally fresh. I needed to run when they came and they wanted to arrest people. I wasn't able to run anymore so I had no choice but to hide in one of the old sewage system tubes. I stayed there for 6 hours and I was very close to suffocate because it was very hard for me to breathe there. My family thought I was killed, but finally Assad's forces left and I had the chance to leave the tube where I was really about to take my final breath." 
Samer next worked with a revolutionary news network as a volunteer correspondent to cover the situation in Moaddamiyeh. He videotaped demonstrations, and uploaded the videos on YouTube, in addition to participating in the demonstrations. He was active in Moaddamiyeh and in many other areas, including Damascus and its suburbs. In April 2011, his cousin was killed in a demonstration when the regime's forces began shooting at the demonstrators.
Samer was also supposed to be doing his military service at that period of time, so he needed to disappear. He stopped moving from place to place, because he wasn't able to go through the regime's check points. Instead, Samer started to participate in the relief work in Moaddamiyeh—working with IDP families from Homs, following the Homs massacre. The regime's brutality was increasing, and raids in Moaddamiyeh to arrest activists grew more frequent.
"I was staying in our house until I heard them breaking into the place. Then I rushed out, and I hid in the small attic in a huge box of clothes. They came into the house and stayed there for two days. For two days I was stuck, not able to move at all and I was just thirsty and barely taking my breaths in and out. After two days of thirst and exhaustion, I was very close to turn myself in because I wasn't able to handle that any more, but suddenly they left the place and I had the chance again to survive while my family thought again I was killed because I disappeared. But I survived once again."
During the next massacre, Samer didn't leave town. Instead, he tried to communicate with his fellows on the internet, in order to keep them updated about the situation in his neighborhood. Suddenly, while he was observing the street and typing a message report on his mobile, someone poked him. He was terrified: It was a soldier. Samer managed to throw away the mobile while the soldier marched him to the intelligence officer on the other side of the street. His head was put in a black bag, and his hands and feet were shackled. As they were hitting him on different parts of his body, he was able to hear the sounds of a vehicle. This was the bus that would take all the detainees to the intelligence branches.
"When they were pushing me to get inside the bus, I heard a voice of a lady screaming out loud 'Stop! Stop! Leave him! That's my son 'But I couldn't recognize that voice, it wasn't familiar for me. I felt hands which were grabbing me from both sides and she was arguing with them. It seemed to me she was trying to prevent them from putting me inside the bus. Other hands-one of Assad's forces-were trying to push me inside the bus. That argument went on for more than 15 minutes. Then the officer shouted at her, telling her to take me and go to hell, and assuring that if he saw me again he will shoot me in the head. I walked with her and then, when we were away from them, I removed the black bag to see her. Her eyes were full of tears and she was smiling and crying at the same time. I didn't know her and she didn't know me, but she saved my life and I survived again."
At the end of the 2012, Samer added volunteering in the field hospital to his steady work in media and relief. While he was documenting the chemical massacre in the field hospital, Samer was affected by the chemical gas. Meanwhile, Moaddamiyeh was going through a siege, and 12 people starved to death. This pushed the residents of Moaddamiyeh to accept the regime's truce: hunger was even worse than chemicals for the people of Moaddamiyeh. Samer volunteered in a bakery, where he baked and assisted with bread distribution. Then, the crossing to Moaddamiyeh was closed again for 40 days; again for 4 months; once again for 6 months; and, the last time, from the beginning of 2016. During this period of time, Samer worked on documenting the urgent needs under the siege. He cooperated with other activists to put pressure on the regime's forces and the international community to open the crossings.
"I survived several times and I'm alive now for a certain reason!  God use me! Use me! I'm always repeating that. Whatever happened, I still want to provide help and volunteer. I guess all the difficulties and the bad circumstances is only a period of time which will pass. It will be a memory that we don't want to remember." 
This was the last interview of the Through Their Voices series. Part 1-9 are already online: The Dreamer's Voice (1) / (2), The Teacher's Voice, The Paramedic's Voice, The Hope Planter's Voice , The Returnee's Voice , The Artist's Voice, The Chronicler's Voice , The Mentor's Voice and The Eyewitness´s Voice.