From war zone to classroom
About an energetic young teacher who is learning fast and enjoys it.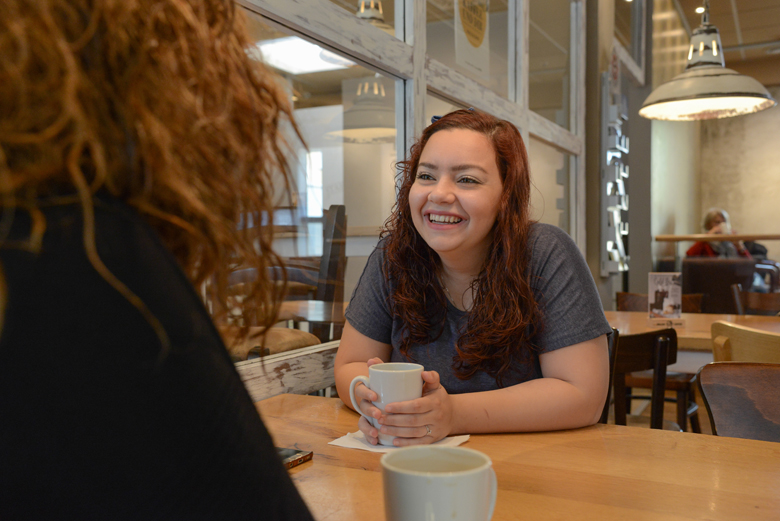 Alaa Kassab (24) from Syria is an enthusiastic teacher and so she is excited to be one of the 28 graduates from refugee teachers class at Potsdam University. The program was founded in April 2016 and it opens an opportunity for refugee teachers to qualify for entering the field of teaching in German schools. It introduces newcomers who have teaching experience to the German educational system, supports them to master the language and offers lectures based on each specialization. Alaa first heard about it in a newspaper article and was interested right away. The young Syrian woman graduated with a Bachelor degree in English Literature from the University of Aleppo and has many years of experience in teaching English. She came from Aleppo to Germany less than two years ago in 2015, when the situation in her hometown had become unbearable. "Life in Aleppo was getting worse day after day: getting on without water and electricity, high prices compared to wages and NO safety."
Alaa is part of a war generation, who studied and graduated, while the rockets and cannons continued to bomb around their university. While other young people around the world were making plans for the future, the students in Aleppo University could only think of how to survive. I got a brief description of Alaa's story before meeting her and it made me very excited to get to know her."A girl from Aleppo, who came the whole way to Germany all by herself, is studying at the University of Potsdam as part of a training program to continue her career as a Teacher in Germany. She speaks fluent German!" When meeting her for a coffee I was impressed by the beautiful young girl, that appeared very strong and introduced herself in a fluent German that almost made me forget that her mother tongue is Arabic!
This young girl came here alone to do everything possible to achieve her dreams while carrying all her memories and longing for her family. It brought me great joy to listen to her story and watch her tell it. Every inch of her seemed to shout "Hey! New world, I am here with all the love and breakdowns that I have gone through. With all my energy and disappointments. I am here and someday I will be what I want to be".
While telling her story in detail she did not blink an eye. Listening to her I had to think about how lucky we are to be part of the survivors who managed to get out of Aleppo. The second thought was if being lucky was the right expression in such a case! There is so much that was left behind, also for Alaa. "The decision was not easy at all. My family thought I was crazy to travel alone. I heard a lot of comments like: "The Fish will eat you", "You will drown in the sea" or "You are not going to make it because you are a woman".
But Alaa had already made her decision, and did not hesitate for a moment to go on the long journey to seek asylum. "Neither the sea nor the long walk in the middle of nowhere stopped me. My goal was in front of me and I had to go after it"
Many people who come here like Alaa have high hopes and dream of a starting a new life after leaving the experience of war behind them but the reality they face is often really harsh. Arriving was not easy for Alaa either. "Even though I spoke fluent English I was very frustrated and afraid. Even of everyday things like going to a supermarket. What should I do if they would talk to me in German? I was afraid to look stupid".
Today Alaa is no longer afraid because in the meantime she has learned the new language. She is proud of her progress, the refugee teachers program has been a door opener for her. Here she met a lot of new friends and this gave her the confidence to get involved in many different activities. The young teacher meets with a cooking group of diverse women every week, to talk about different topics, introduce their cultures, prepare food together and spread a lot of love. Regardless of the long hours of studying and her full schedule Alaa also volunteers at the "Tafel" organization. With her proficiency in Arabic and German language, she saves time and effort for many of the workers there and meets new people all the time.
Another recent achievement for Alaa was learning to ride a bike. Before she did not really trust herself that she could do it, so in Aleppo she never really tried it. But now she enjoys the freedom of riding her bike wherever she wants. Like many other women Alaa is challenging herself to reach her goals without much looking back. While in Germany it's allowed for a woman to rule an entire country, for women in Syria it is still unusual to drive a bike! So while missing the life back home life here offers new qualities and opportunities to explore. "I feel a lot of appreciation from everyone around me, positive energy is everywhere and it's really wonderful to feel encouraged. It's strange to me! I'm free… Free with what I wear, what I work and free with my choices regarding my personal relationships, which I was not in Syria."
For many, including Alaa, despite the stress of the new beginning and the language barrier for the new arrivals of teachers who have many years of experience, the refugee teachers program was a great opportunity for them. With the certificate the trainees will be able to work as an assistant teacher and provide support for example with the families of refugee students.
Alaa is now one of the Graduated students waiting for her contract after she has completed the whole program and then she can finally start her career in Grundschule Geltow in Potsdam. During the first year she will work together with another teacher, so she will not immediately be alone in the class. "The profession of teaching is the only profession I feel pleasure in practicing, I have a great desire to pursue my work here," Alaa told me. And she is hopeful that she is going to be back in a classroom really soon.