"We're Doing it" at Büchereck Niendorf
On 22 June, Stephanie Krawehl from Buchhandlung Lesesaal and Christiane Hoffmeister from Büchereck Niendorf held a "we're doing it" event. Two writers and four refugees came together for a "Bookshop Encounter". Moderated by Kristine Bilkau and Isabel Bogdan, an adult and a young man from Syria and two young men from Afghanistan talked about their lives in Hamburg's Büchereck Niendorf bookshop.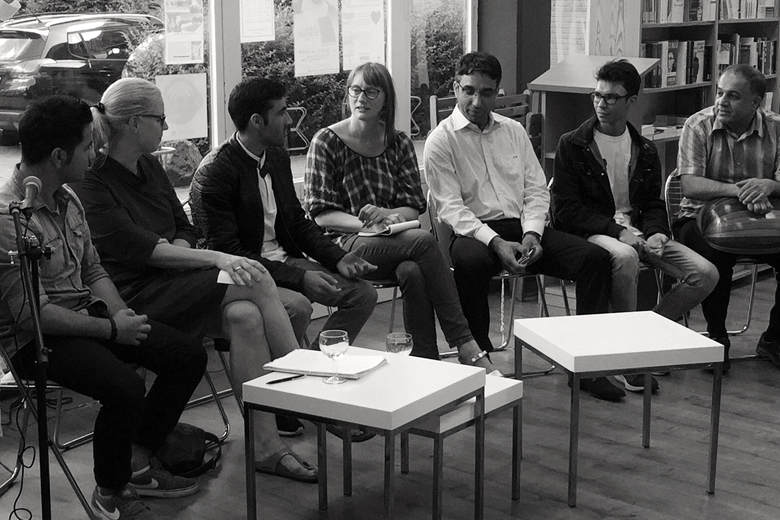 One speaks very good English. One speaks very good German. Two don't speak German well and don't speak English at all. Their native language is Pashtu and we have an interpreter for Arabic but not for Pashtu. So we'll have to get by in German. It doesn't matter that they can't speak so well because that's part of the subject. It does matter, because sometimes we don't understand them. We do understand that one was to be recruited by the Taliban at the age of fourteen and that's why he fled. We don't understand what happened to his father and brother. We do understand that his father and his brother are dead, and we do understand that his mother knows he's living in Germany but his other brothers and sisters think he is dead too, because that's safer for them. We're not sure how far to go with our questions, what is allowed and where the boundary is. We're not sure whether to say his name in public or whether that might be dangerous. He'd like to be a policeman one day, which is difficult under the current German law, at least. Perhaps a fireman. But first of all he'd like to learn better German.
Another would like to study medicine or become a nurse, and is currently interning with a dentist. But first of all he'd like to learn better German. His story was difficult to understand too – the word Daesh came up. Both of them are quite shy and unsure of their language, but they're sitting here in front of an audience and talking about themselves, quickly and quietly.
The third young man lives with a German family. He has only been here for nine months but speaks almost fluent German. His classes at school move too slowly for him. He'd like to do the German school-leaving examinations to qualify for university but he's not allowed to because he has the same qualification from Syria and that's recognized here. Two university entrance qualifications is one too many. Perhaps he'll still keep going to school in Germany though, to learn faster. Then he wants to study dental medicine or medical technology. He thinks he'll get asylum because he's not only Syrian but also Kurdish, and that's even worse, he says with a cautious laugh. He recites a poem that he wrote for his girlfriend's birthday, a poem about love. He's not with his girlfriend any more now – she's still in Syria.
***
"What makes people leave their home?
What makes people leave their family?
What makes people leave their house, their county, their friends?
What makes people leave their job?
What makes people leave everything they have?
What makes people take a boat in the middle of the night?
It is hope. Hope for a better life (or for life at all), hope for a future, hope for peace and safety. Hope is what makes people leave their home. Hope is everything they have. Hope is what keeps them going. They have nothing else left but hope."
***
The fourth one, a grown man from Syria, tells us he asked himself these questions up to the moment when he himself stepped onto a boat in the middle of the night. When panic broke out on board he remembered his work – he works in communication – and he calmed the other passengers down. There's a fifty-per-cent chance, he says, either you get to the other side by boat or you don't.
And once you get to Germany, everything is not suddenly fine. Then you have to wait. For accommodation, an interview with the authorities, an application, a doctor, a bed, the next interview, the application processing, a work permit, German lessons, for clarification of your residency status, you have to wait, wait, wait, and that's not easy when you want to work and start a new life and stand on your own two feet. Waiting. That's what he's learned in Germany, he says, waiting. That you always have to wait in Germany. (In other countries, these things work quicker if you grease the right palms, we find out later.) Apart from that he'd prefer not to talk about himself, would rather keep things general.
The boys' carer, a man from Iraq who has been in Germany for more than twenty years, plays the oud to finish off and tells us the oud is in a way the mother of all stringed instruments. He plays an Arabic song and a couple of people sing along, then he plays 'Hava Nagila' and everyone sings along, then he plays the German folk song 'Muss i denn' and everyone laughs, and then there's an amazing meal donated by a Lebanese restaurant owner. We stand around talking for a while. A friend of the three boys' is there and loves the bookshop's delivery bicycle, which he tries out of course. An old lady arranges to meet up with one of the boys the next day to show him around Hamburg, having found out his school is close to where she lives. And we realize we want to know what happens next for these four people, whether they get settled here, whether their hopes are fulfilled, and we decide we must all meet up again.