Writing On – A Platform for Literature and Music from Regions of Crisis
In 2017 we asked authors who had sought refuge in Germany what they wish for. The answer was always: To keep writing.
This is Writing On
For those who write, it is fundamental that the writing process is not disrupted. Through the political situation, however, this process for authors from zones of war and conflict is often not only interrupted, but also turned into a life-threatening activity. When they are forced to leave their homelands, their language area and their readership often disappear.
Writing On is WIR MACHEN DAS' literary project, in which authors from zones of war and conflict can continue to publish and network with authors who are already established in Germany. It is a platform that also enables a broader readership through translations. Because continuing to write also means continuing to be read.
What Writing On changes
In public discourse people from conflict zones are often spoken about, in this programme they speak up themselves. The authors of Writing On enrich the German media discourse and gain access to the German literary scene through collaborations with renowned German-language authors. In one-on-one exchanges, the authors collaborate in various forms. In-person meetings, literary exchange and political discussion – these are all valuable for both sides.
The texts created in this way deepen transcultural dialogue. They cut through stereotypes and enable direct access to perspectives from current zones of  conflict such as Iraq or Syria. People in Germany learn more about Arabic literature, as well as daily life in zones of war and conflict.
Every month two to four authors publish their texts on the online portal www.weiterschreiben.jetzt. The texts are illustrated by artists from conflict zones.
Who's participating in Writing On
Our authors come from Syria, Iraq, Yemen and Afghanistan. In addition, Roma and Sinti authors who live in Germany, Austria and Hungary are also participating. Because conflict zones aren't always located elsewhere, for some they're right here in the middle of Europe.
What Writing On has achieved so far
Writing On has attracted quite a bit of media attention. The NZZ, SPON, ZON and Tagesspiegel newspapers published texts, numerous German local and national media outlets, as well as The New Yorker magazine, reported on the project. Participating authors have been invited to the Literary Colloquium Berlin, Haus für Poesie, Internationales Literaturfestival Berlin, Frankfurter Buchmesse, Federal Chancellery, literature centres, festivals and numerous book shops around Germany. In 2018 Ullstein Verlag published an anthology titled Das Herz verlässt keinen Ort, an dem es hängt, edited by Annika Reich and Lina Muzur.
Furthermore, we received a Power of the Arts award from Philip Morris GmbH in 2018 and used the prize money to publish our first print magazine: in the summer of 2019 the first issue of the Weiter Schreiben magazine was released, featuring contributions on the theme: Houses – Gardens – Ruins. It's on display in book shops, libraries and festivals around the country.
Weiter Schreiben is a project from WIR MACHEN DAS / wearedoingit e.V. in cooperation with Deutscher Literaturfonds and the Fondation Jan Michalski.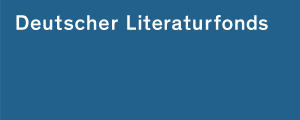 We would like to express our gratitude to the Hauptstadkulturfonds, the Schering Stiftung, the Heinrich Böll Stiftung's Gunda Werner Institute and the Goethe-Institut for their financial support during our first year, and the Hauptstadkulturfonds, the Allianz Kulturstiftung and the Goethe-Institut for the second year.