Writing On (Weiter Schreiben) – A Platform for Literature from zones of war and conflict
In 2017, we asked authors having sought refuge in Germany what they wish for. The answer was always: To keep writing.
Writing On is a literary platform for authors from war and crisis zones. Since 2017, we have been translating, illustrating and publishing poetry and prose from Arabic, Persian and Tigrinya on our online portal weiterschreiben.jetzt – in German and the original. We connect writers in exile with renowned German-language authors in tandems and organise joint readings. We do this because continuing to write, to be read and to be heard is existential for writers – and because we see the texts as an invaluable enrichment of the local literary landscape.
Founded to make the arrival easier for writers who have fled to Germany, both in the country and on the book market, we have focused on personal encounters and networking right from the beginning. Ever since this network has grown continuously. Today we cooperate with independent centres for literature in Germany, Austria, Poland and Switzerland and more than 120 authors, translators, artists, photographers and musicians from 12 countries. Moreover, since 2019 we have been publishing a print magazine once a year, we have produced a podcast, have published an anthology as well as an audiobook and have initiated the literary correspondence W/Ortwechsel.
Parallel to diversifying media and formats, Writing On has also expanded its regional reach. In 2020, the sister association Writing On Switzerland was founded. In 2021 we started collaborating with women writers in Afghanistan through Untold –Writing On Afghanistan; In 2022 we started a transnational project with authors in Angola, Egypt, Belarus, Burkina Faso and Iran. Most recently, we have initiated Writing On – Europe, a literary exchange of authors in German, French and Swedish exile, which will allow us to rethink Europe.
In 2017 we could only hope that some of the authors would receive scholarships and their first book contracts in Germany, in 2022 this has already become reality several times. Many of the authors have won renowned scholarships, residencies, city writer positions or prizes. Galal Alhamadi, Ramy Al-Asheq, Lina Atfah, Rasha Habbal, Yamen Hussein, Ahmad Katlesh and Widad Nabi were able to publish their first books in German or bilingually. Ali Alkurdi and Sam Zamrik will follow soon.
In 2018, we were awarded The Power of the Arts prize by Philip Morris GmbH and used the prize money to publish our first print magazine: in 2019 with the theme "Häuser – Gärten – Ruinen" (Houses – Gardens – Ruins), in 2020 under the title "Hühner – Katzen – Messenger" (Chickens – Cats – Messengers) and in 2021 it was all about food and identity with "Salzt uns!" (Salt us). Our latest issue "Dieser Schatten ist nicht ich" (This shadow is not me) was released in autumn 2022 featuring women writers from Afghanistan. The Weiter Schreiben magazine is available nationwide in bookshops, libraries and at festivals.
In 2020, we initiated (W)Ortwechseln. Weiter Schreiben – Briefe, a literary correspondence project that presents a unique exchange of ideas between native and exiled authors in Germany as well as with authors in Iran, Sudan and Afghanistan, both on our website, in podcasts and in a much-acclaimed audiobook.
In the spring of 2021, we started a correspondence project between authors in Afghanistan and German-speaking authors in cooperation with the London-based initiative Untold. While the letters could not be published in the year they were written due to the security situation after the Taliban took power, Untold – Writing On Afghanistan today provides a unique testimony to the transitional situation from the perspective of female intellectuals.
In 2022, we want to expand our scope once more and connect writers exiled in Germany, France and Sweden. We are sure that their exchange will open up new perspectives on Europe in the 21st century. We also initiate and publish correspondence between exiled writers in Europe and writers in Egypt, Angola, Burkina Faso, Iran and Belarus: to broaden our horizons, to read anew about freedom and borders, about love, fear and resistance, and to rethink the notion of crisis.
Since 2020, we have also been organising events in Austria, Poland and Switzerland in cooperation with festivals and literature centres. In Switzerland this was so successful that a new association emerged from it, which today publishes writers who have fled to Switzerland on weiterschreiben-schweiz.jetzt and creates networks with German-, French- and Italian-speaking writers living there: our first Weiter Schreiben satellite – and hopefully not the last.
Our sponsors 2019 – 2022: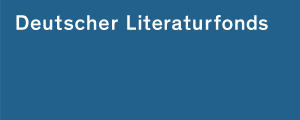 We would like to express our gratitude to the Hauptstadkulturfonds, the Schering Stiftung, the Heinrich Böll Stiftung's Gunda Werner Institute and the Goethe-Institut for their financial support during our first year, and the Hauptstadkulturfonds, the Allianz Kulturstiftung and the Goethe-Institut for the second year.