WIR MACHEN DAS (WE ARE DOING IT) arose from a network of 100 women from arts and culture, science, journalism and public life under the association wearedoingit e.V. in 2015.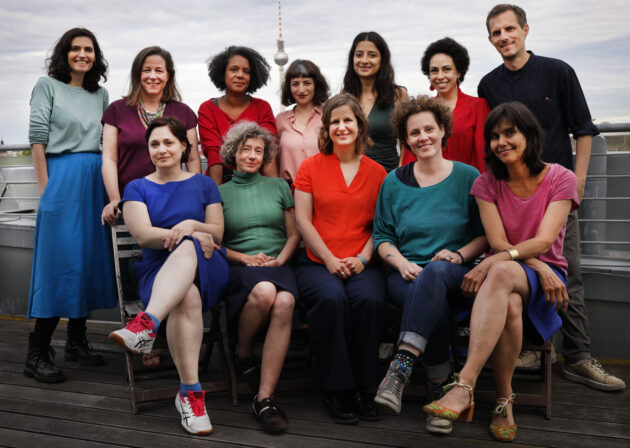 As a non-profit organisation, we work with various actors in the fields of art, culture and civil society for a pluralistic society which recognises diversity as a strength. In particular, our association stands for supporting people with migration and refugee histories and enabling them to actively shape society.
Like Hannah Arendt, we assume that belonging should not be defined by origin, language, skin colour or religion, but by living, acting and speaking together. WIR MACHEN DAS was founded on the impulse to pragmatically confront the crisis of refugee policy and to recognise and support the people who have had to flee here in their expertise.
In our cultural and dialogue projects, we promote different forms of cooperation. We connect new arrivals with more settled residents in Germany to create long-term perspectives. Together we work to improve career opportunities, educational opportunities and networking.
In our projects, it is important for us to focus on individual resources and to promote equal exchange. To this end, we open up spaces and create the necessary conceptual and financial conditions.
In many projects, we work with a tandem principle: We connect newly arrived people with partners who already have a network, access to spaces and know-how in Germany – and who in turn can benefit from the new perspectives and migration stories. We design the tandem work as an equal, open exchange that enriches all participants.
As an intersectional feminist association, we are particularly committed to the empowerment and participation of women and queer people with migration and refugee histories, as they are particularly affected by social marginalisation.
We are an interdisciplinary team of people with and without migration and flight histories with competencies and expertise in the artistic, journalistic, academic and non-profit management fields. Together we develop and implement projects with a proven balance of creativity and humanity.
Our Projects
Weiter Schreiben (Writing On) is a platform for literature and music. Authors from conflict zones collaborate with German-speaking authors. The texts are then illustrated and published in both German and the original language on an online portal. Through this, we open doors to the local literary scene while enriching it at the same time. Furthermore, numerous readings with music take place at well-known literary institutions. Writing On now has many satellite projects. These include Writing On – Mondial, Untold – Writing On Afghanistan,  Writing On – Europe (2022) and Writing on – Ukraine (2022). Weiter Schreiben is a 2018 Power of the Arts winner. The project was also awarded the Hermann Kesten Prize of the German PEN in 2022.
Meet Your Neighbours supports conversations between recent migrants and long-established residents across Germany. Together with associations, initiatives and migrant organisations, Meet Your Neighbours designs and organises events in bookshops, libraries and community centres, so-called strangers get to know each other and exchange viewpoints in a safe environment.
In our project Living archive – Coping with Dictatorship we examine the dictatorship experiences of people who lived both in Syria and in the GDR.
Our completed projects are listed here.
OUR PROJECTS
OUR TEAM
Behind WIR MACHEN DAS is a dedicated team that is working towards reaching our goals and visions: an open and plural society, for which migration is an asset. Get to know who we are here.
PAGE »TEAM«