For artists living in exile, dealing with new living conditions often raises existential questions: Who am I here in this country? How do I see myself and my art? How does the view of the local society determine my existence as person and artist? Caroline Assad (Mangerial Director of WIR MACHEN DAS) Dima Albitar-Kalaji (editor and co-curator of "Weiter Schreiben") author Ghayath Almadhoun (former scholar of DAAD's "Berliner Künstlerprogramm") and Farah Barqawi (Writer, performer and activist) have to deal with exile labelling in their texts and in their experience with other authors, audiences, the press. In this workshop they shared insights and invited participants to discuss and share their experiences as well.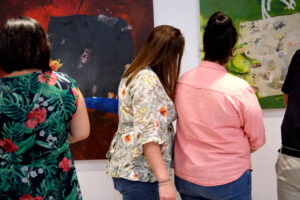 The second part of the workshop series looked at visual art pieces that were shown in an exhibition of artists who live in the diaspora in Germany. The exhibition was titled New Spaces / New Perspectives and was funded by the Mercator Foundation. Together, we looked at the work of five young artists – Huda Takriti, Jeanno Gaussi, Tewa Barnosa, Ala Hamameh and Mohammad Zaza – and asked ourselves how we view their work in light of our knowledge of the questions raised and discussed in the first workshop "Between Autonomy and Labelling of Artists in Exile."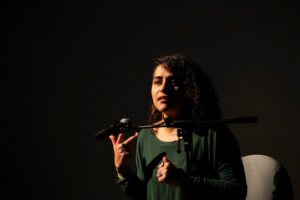 In the third and last part of the workshop series, author and cultural curator Farah Barqawi hosted a writing session in which she supported writers and artists in processing their thoughts and experiences. Her creative writing session looked at daily details in the lives of exiled artists that often go unnoticed or are forgotten. The short-paced writing process itself gave birth to ideas for artists from different places and genres that can allow them to pave a way for re-writing the future. The products of the session could be further worked on afterwards and perhaps published at a later point.